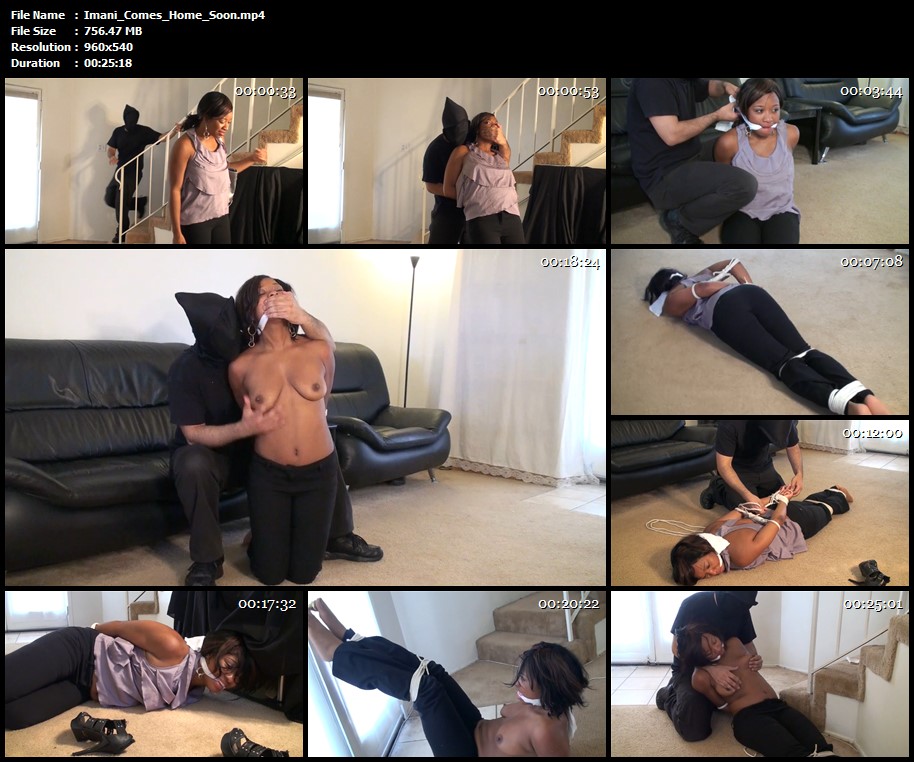 Sexy newcomer to bondage Imani comes home after a long day working as a secretary (or any of a host of other fun office jobs!). Unfortunately, she broke her routine and came home early while a burglar is around. He grabs her from behind with a handgag that presses down on her mouth hard as his hands pin her arms behind her back. He makes some comments about being inconvenienced by her early return (yeah, he's the one being inconvenienced!) and starts to touch her in very inappropriate places, squeezing her tits and ass with a little spanking thrown in. He then ko's her for what comes next, bondage! She comes out of the fog already tied up securely as the masked intruder fondles her roughly, keeping a hand over her mouth before tying a tight cleavegag through her teeth to keep her quiet. More fondling and he also removes her shoes and briefly gropes her pantyhosed feet before leaving her to struggle. She wastes no time and makes for the door and after some effort even manages to stand. Will she get away?
Hot ebony babe Imani frantically tries to get the door open, which gets stuck at the most inopportune times it seems, but she doesn't quite make it as her captor grabs her before she can get out. He makes her hop back after fondling and spanking her. She is next seen on the ground where he comes over and quickly hogties her and then spanks her ass and gropes her some more before leaving her to struggle again. She does her best to get free, but has trouble with the ropes and rolls around the floor trying to get loose as we check her out in close-up and fully body hotness!
Later, Imani finds herself topless, which makes for better viewing! She has been retied and is still cleavegagged. The masked man perv does his titty squeezing bit and then his hand ventures in-between her legs and ass, making thing a bit hot and heavy and her looks express the confusion she feels what with the captivity and pleasure of being a trussed up object of desire. He leaves her to struggle and she does her best to get away and heads to the door, but ends up comically trying to open it with her feet. Her athletic prowess does allow her to stand up for a time, but eventually she is back to being the molestation toy of the masked man who then ko's her for, shall we say, safe keeping?
Clip name: Imani_Comes_Home_Soon.mp4
Clip size: 756 MB
Format: mp4
Resolution: 960×540
Duration: 00:25:18
Link (K2S/Fboom):
Imani_Comes_Home_Soon.mp4