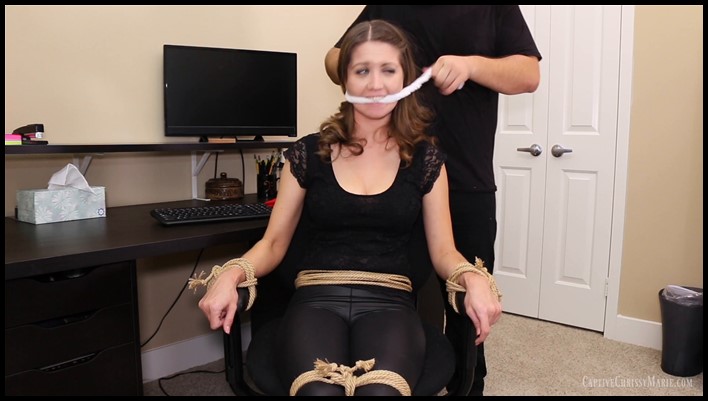 A Plucky Girl Detective
12:40 video
Our girl detective Chrissy has been sent by her all girl detective agency to investigate some suspicious activity at a disclosed location. She enters holding her phone and wearing skintight shiny black leggings and runners, as it is known that runners are the footwear of choice for snooping detectives. As soon as she's in she calls the agency let them know and she tells them she will call back if she finds anything. The girl detective proceeds to look around for anything that could be a potential clue. After a short time she finds something she thinks is worth a closer look. She holds up her phone and snaps some pictures of the clue, but while she does this, a masked man enters the room and begins too sneak up behind the girl detective, armed with a large white cloth in his hands. As she looks at her cell, the masked man (now right behind her) flips the white cloth over top of her head and yanks it back up over her mouth gagging her tightly. The young detective looks shocked with wide panicked eyes, one hand still gripping her phone as she reaches up with her other free and grabs at the gag in an attempt pull it down and can scream for help… but it is no use, the attacker is far to strong and she cant get the gag off, as she struggles with him, the man just drags her off so he can get her bound.
We now see our girl detective Chrissy sitting on the floor of a room, her wrists and ankles bound in rope and a cloth tied tightly over her mouth. She tugs and wiggles against her ropes trying to get free, but they are too tight to be slipped off; however this won't deter our plucky girl detective! She struggles hard to get to her feet, and hops around looking for something to perhaps rub the ropes against to help slip them off. Suddenly her phone rings alerting her to its location and she immediately hops over to her cell and touches it with her nose activating it, she grunts and mumbles at it but her tight gag obviously prevents any communication. Slightly frustrated at her situation our detective moves her head up and down until she is finally able to work the gag off. With the cloth now hanging down around her neck she quickly alerts the staff " its me, I'm at the house, but I'm not alone, there is a guy here, he gagged me and tied me up, get over here quick, I need help…" her words cut off as the man, who had heard her talking, has now run in and hand gagged her! She mumbles against his hand to try and let the agency know but he just drags her off again.
Our young detective is now bound to a chair wrapped in even more ropes, seeing as she was too smart for her own good the masked man is no longer taking chances. She looks around the room with the gag still hanging around her neck and wonders how the hell she is going to get out of this one! The man enters the room holding a bright bandana and walks over to her. He unties the white cloth around her neck and then twists it into a thin band and holds it up to her mouth as she barks at him in disgust " you won't get away with…" he pulls the gag into her open mouth and she slurs her sentence. He ties it off in a big white knot behind her head. Now cleave gagged he lowers the bandana down toward her mouth and wraps it over her cleave to OTM gag her, then knots it off behind her head above the other gags knot, keeping her far more quiet! Totally bound up and now double gagged, she growls and grunts at him as he confirms the tightness of the ropes around the chair. He looks at her says " you're the perfect bait now for your back up" she freezes and her eyes get big as she realizes she has just asked her friend to walk into a trap. She shakes her head as if to say "no" but he just laughs as he takes her phone "As soon as she gets here, I'll gag her too and you will have a friend all tied up with you, and ill be gone with the money before anyone finds you two!" He leaves the room with her phone and the poor plucky detective shakes her head but this gag wont budge. She rocks her chair in frustration, struggling and rolling around the room, desperately trying to find a way to get free so that she can warn her friend before she ends up just like her!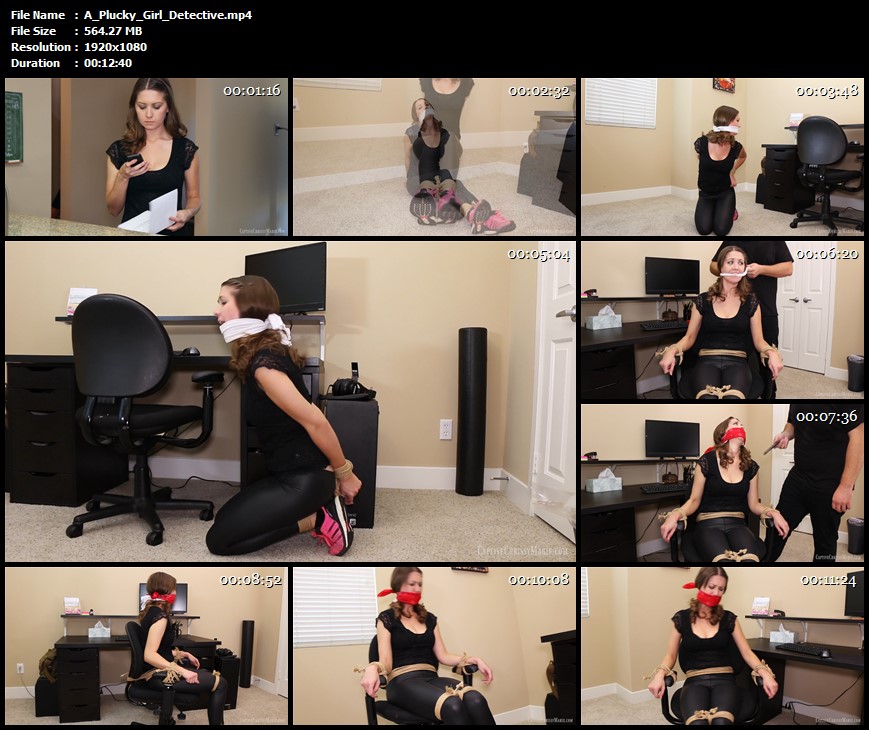 Clip name: A_Plucky_Girl_Detective.mp4
Clip size: 564.268 MB
Format: mp4
Resolution: 1920×1080
Duration: 00:12:40
Link (TezFiles):
A_Plucky_Girl_Detective.mp4