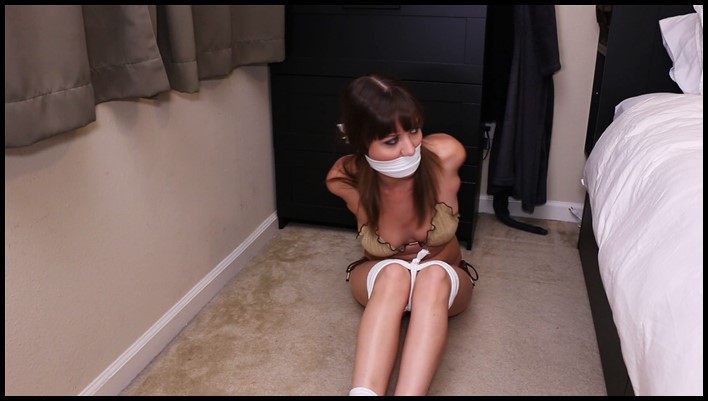 Agent Chrissy Vs. The Evil Perfumist
11:15 video
It's a warm sunny day right outside the beach when special agent Chrissy gets a call from her superior to investigate suspicious odors from a few blocks down the street. As Chrissy enters the questionable residence, wearing her sexy tan bikini, she is immediately hit with a pungent odor that has her plugging her nose! "They were right, something definitely is foul!" she says while still holding her nose. She starts searching for evidence of where the odor is coming from and then stumbles across a neglected piece of paper on the couch and uncovers his whole plot! There is a list of ingredients to some sort of magic perfume!! A key ingredient seems to be roadkill, which is causing the smell in the neighborhood. That among a few other scents are whats needed for the evil Perfumist to take control of the city!
Agent Marie goes to dial her boss to report her findings, or so she though, but instead the villain grabs her from behind and hand gags her as he drags her into the bedroom, where he ties her hands, elbows, knees and ankles. "You're absolutely crazy!" she says to the man as she struggles. "Why do you want the city under your control anyway, when all you're doing is stinking up the neighborhood?" she asks, but he just ignores her as he's studying his mix. Then her cell phone rings and it's her boss calling. The evil Perfumist grabs a thick white handkerchief and quickly OTM gags her! He presses the answer button puts it to her ear and she attempts to gag talk to her boss. Then the man says something himself. "Listen up! I have one of your top service agents sneaking around where she shouldn't be and soon she will be one of my minions" the evil villain says as he has a snickering laugh before he hangs up. "I'm going to go make sure you didn't mess up any of my plans" he says as he gropes her for good measure before leaving her tightly bound and struggling.
Chrissy remains calm and struggles trying to get free. After a while she spots a piece of glass lying on the floor and starts to slowly cut herself loose!! Once she escapes she goes to find the villain, who is studying his ingredients list but has no idea that his captive has just freed herself and is coming for him. "Hello, evil Perfumist, I'm free and you're about to be busted!" she says rather cockily. But the Perfumist suddenly sprays something at the agent and she immediately gets dizzy and faints. She wakes up tied up again, this time bound to the couch. Have all the fun you want. My men are going to be here within the hour so gloat while you can!" she says to the man as he grabs a cloth ball and a roll of duct tape. "Oh, really? I'll just escape though the back and no one will notice" he says. "Well I think this whole idea stinks" Chrissy exclaims before he shoves the cloth ball in her mouth and then gags her with a few strips of duct tape. "Ok, Miss Marie, I'm off!" We see Chrissy struggling in her bonds, though a bit more relaxed about her predicament knowing help is on the way. After some time one of Chrissys fellow agents finally comes to rescue. The man removes her gag. "Oh, Thank you. I uncovered the whole plot. I just hope he didn't get far!" she says to him. "Don't worry, Agent Marie, we caught him as he left the house." He reassures her. "Great! Now untie me so we can clean up this mess!"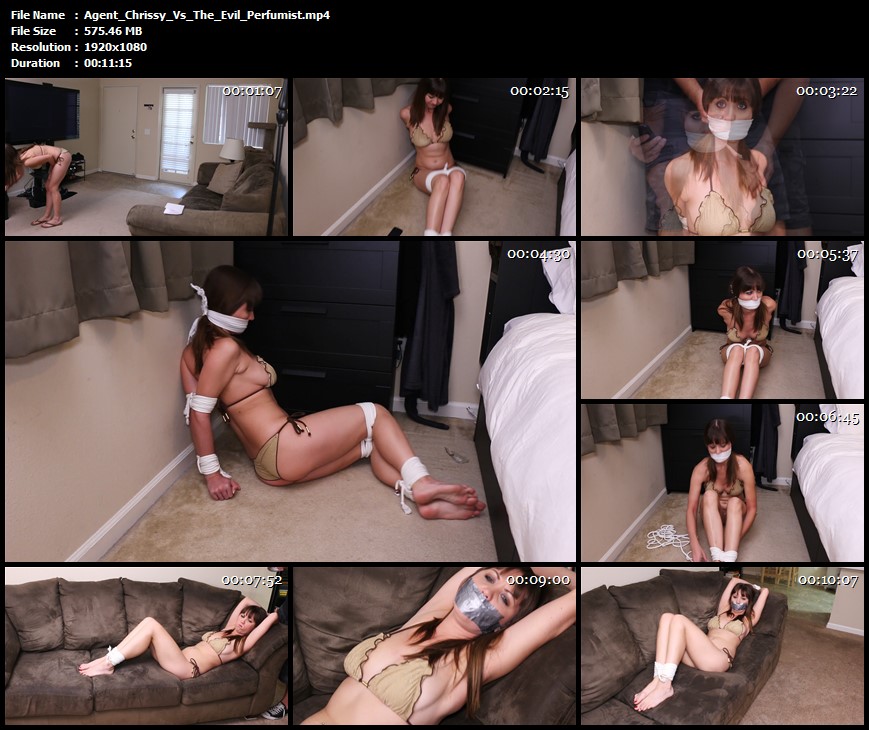 Clip name: Agent_Chrissy_Vs_The_Evil_Perfumist.mp4
Clip size: 575.464 MB
Format: mp4
Resolution: 1920×1080
Duration: 00:11:15
Link (TezFiles):
Agent_Chrissy_Vs_The_Evil_Perfumist.mp4