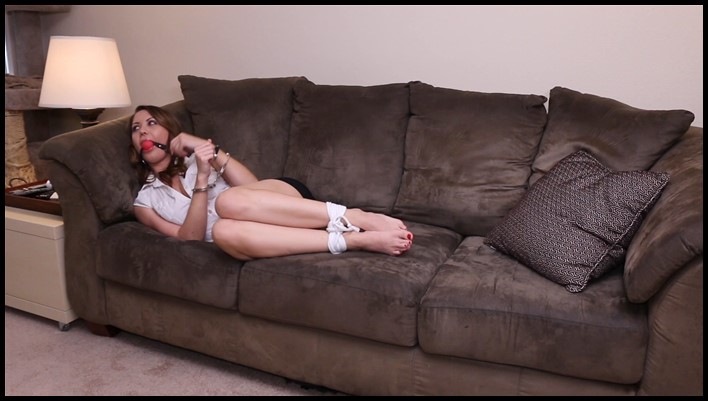 Birthday Bondage Surprise
12:25 video
Chrissy has been trying to think of new ways to spice up her relationship. They're both always so busy at the office, and it's his birthday, so she wanted to do something totally unexpected to surprise him and relieve some stress. Knowing he should be home in about an hour, she get's started, she wants to have time to make sure she is comfortable and ready for him! Chrissy invested in some new handcuffs and a ball gag, and found some rope to tie up her ankles. Once she has tied her self up, gagged herself, and cuffed her wrists, she glances at her watch. She still has a while to wait. So she starts struggling against the bonds to see what it feels like, and to her surprise, she really starts to like it! he rubs her cuffed hands along her legs and kicks off her high heels, exposing her bare soles. Her body squirm as she grows more turned on and we hear her muffled moans through the ball gag as she waits for him to come home and find her bound and gagged.
When he finally walks in, he is initially shocked and concerned if Chrissy is ok, assuming someone tied her up and left her helpless! But to his relief, she assures him she did this to herself as a surprise for him. He definitely is surprised! She asks him if he likes it. He says he does, but he has something else to make it even better. He leaves and returns with two leather belt straps, using one to secure Chrissy's elbows together behind her back, and cinches it as tightly as possible with the cuffs binding her wrists in front. She is practically bursting out of her shirt now, so he helps her out by unbuttoning it to relieve the pressure. He pulls her bra down and starts groping her tits as she moans and squirm in pleasure. He then stands her up and secures the other strap tightly around her thighs, just under her ass, then bends her over to give her a light spanking. After some more fondling, he decides to go get the bedroom ready, and leaves Chrissy bound and gagged, waiting in anticipation!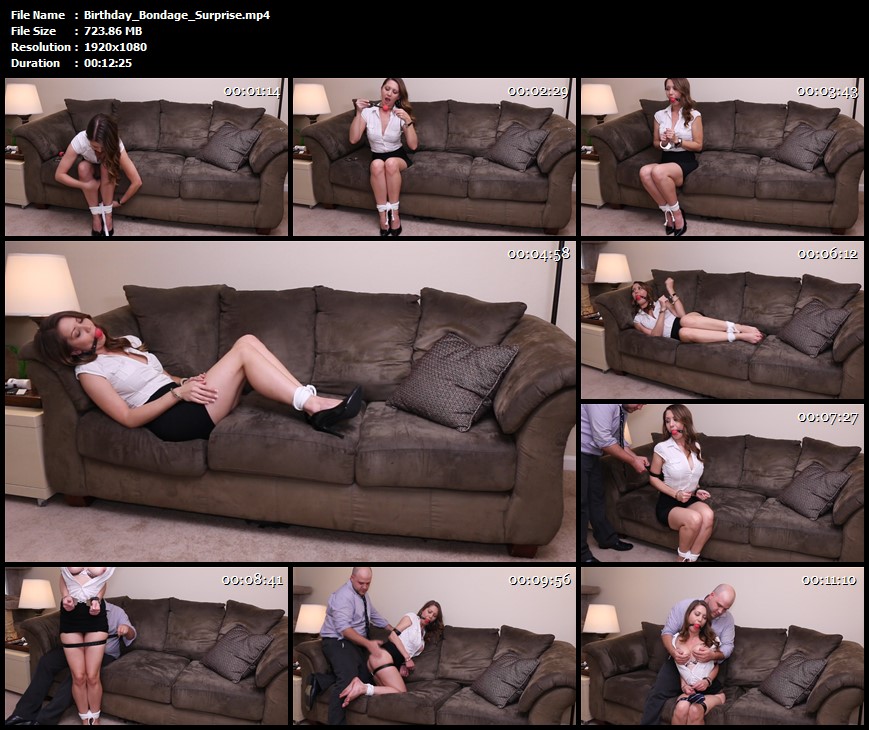 Clip name: Birthday_Bondage_Surprise.mp4
Clip size: 723.859 MB
Format: mp4
Resolution: 1920×1080
Duration: 00:12:25
Link (TezFiles):
Birthday_Bondage_Surprise.mp4