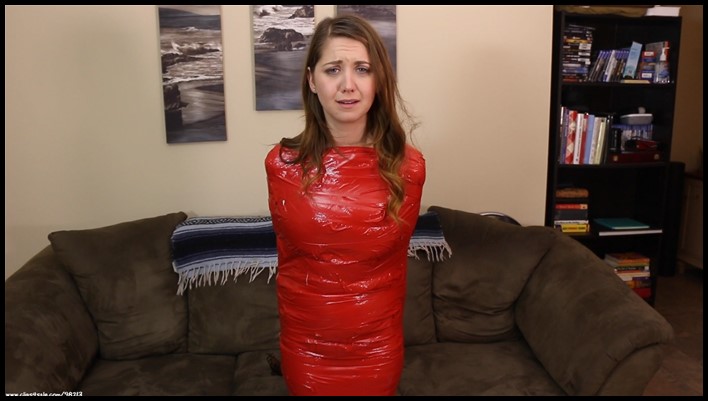 Brightly Wrapped & Brutally Sock Gagged
12:35 video
Im just getting home from school wearing my tight leggings and t-shirt. I sit down on the couch, removing my Ugg boots and lying back to relax, when I am grabbed and hand smothered by an intruder wearing a ski mask! I struggle but he manages to over power me and the next thing I know I'm face down on the couch all tied up with rope! I struggle and beg to be released and for someone to please help me. After a few minutes the intruder returns and says he will untie me, and Im so happy that thankfully he is going to let me go! Once Im untied I sit on the couch, sill feeling a bit nervous that he is up to something. Thats when he tells me to stand up and strip down to my bra and panties! I should have known he wasnt going to let me go that easily! I comply and undress hesitantly. He pulls out some plastic wrap and duct tape and comes towards me as I beg him not to tie me up again.
Now this crazy man has me all wrapped up in shiny red tape and tells me if I can hop to the other room then he will let me go. I am confined so tightly in multiple layers of plastic wrap and tape, so Im not sure if this is possible, and worry about falling down in the process. I attempt anyway because I really want him to let me go, and end up making it, asking to be released. Of course he lied! I cry for help as he lies me down on the floor and start removing my socks, stuffing both of them in my mouth to silence my cries for help. I start gagging as he tries to fit them both into my mouth. Then he wraps tape all around my head to keep them in! I feel so helpless and afraid, as he leaves me alone struggling with no chance of escape! Im stuck here mummified head to bare feet, wiggling and moaning through my sock stuffed mouth, hoping someone will come save me before long!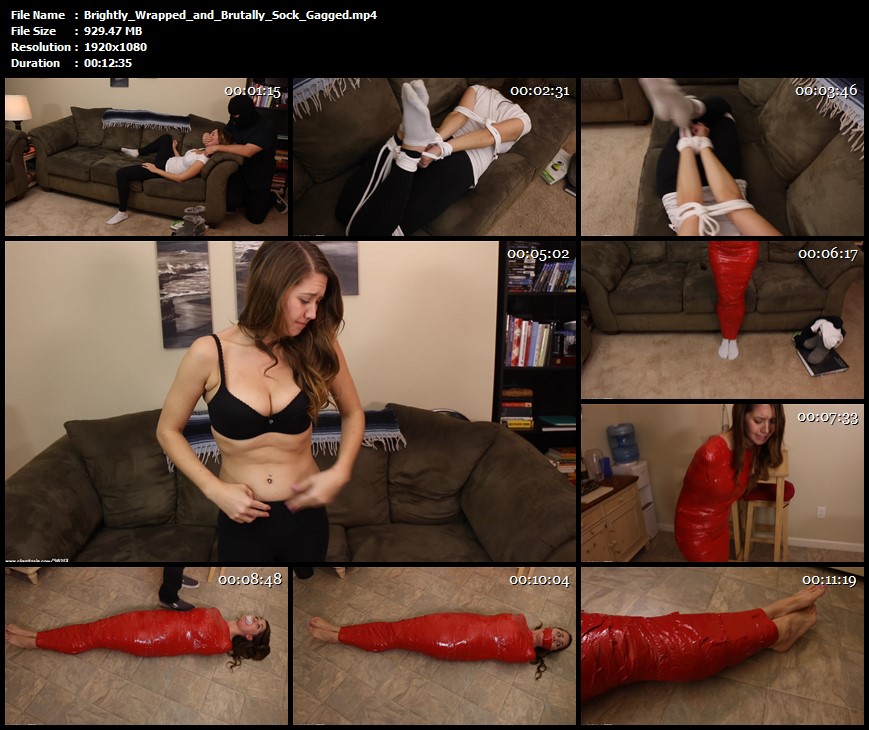 Clip name: Brightly_Wrapped_and_Brutally_Sock_Gagged.mp4
Clip size: 929.469 MB
Format: mp4
Resolution: 1920×1080
Duration: 00:12:35
Link (TezFiles):
Brightly_Wrapped_and_Brutally_Sock_Gagged.mp4