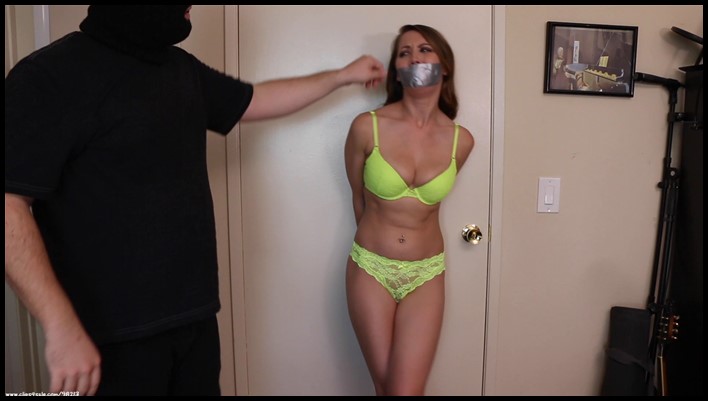 Busty Wife Bound & Gagged for Ransom
16:16 video
Im making a video for my husband who is away on business as a rare and special treat since this has been a very long trip! I take out all my pent up desire as I flirt and start doing a sexy striptease for him, showing off and fondling my tits and ass. Im getting really into it and dirty talking to the camera but I dont notice that there is a masked intruder approaching me from behind! He hand gags me to keep me quiet as I struggle to get away but he is too strong and pulls me off the bed and starts tying me up my wrists with rope! He sets up the camera in front of me and starts making threats to my husband, telling him that he will never see he wife again if he doesnt pay! Then he shoves a cloth in my mouth and cleave gags me! Im so frightened I dont know what to do, I just struggle and hope my husband will pay soon so that this man doesnt do anything worse!
I thought I was going to get away easy when the man returns and starts untying me, but then threatens me and forces me to strip down to my bra and panties! He then wraps tape tightly around my wrists, stuffs my mouth and slaps tape over it to keep it in! The masked intruder threatens me again one last time and tells my husband through the camera that this is his last chance to comply if he ever wants to see his beautiful wife again! He leaves me alone and I mmpphhh and struggle but its no use, there is no escape!
Its now the next morning and I awaken to the masked intruder standing over me. The night before, he forced to wear sexy black lingerie and thigh high stockings to bed, and of course he kept me tied up while I struggled myself to sleep. I open my eyes and start to remember everything. Before I can scream he puts his hand over my mouth. Turns out my husband paid the ransom, but the masked intruder wants to get a last good feel before he lets me go. He ball gags me and starts groping me as I struggle and protest through my gag. Once he has had his fun he leaves me alone to helplessly struggling until my husband arrives! I cant believe my husband is going to find me all bound up, gagged and humiliated like this!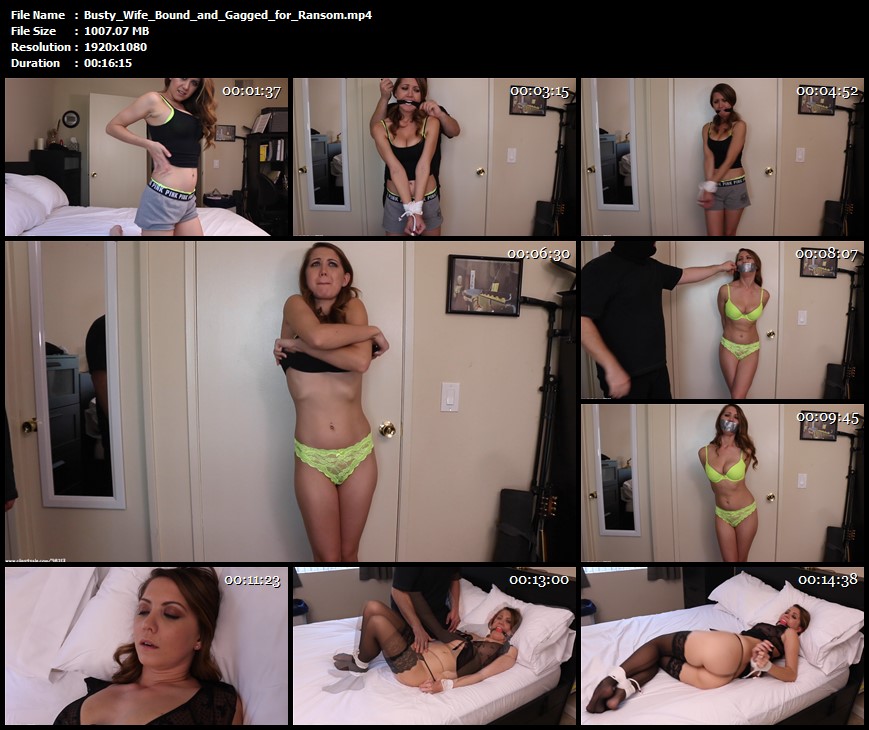 Clip name: Busty_Wife_Bound_and_Gagged_for_Ransom.mp4
Clip size: 1007.07 MB
Format: mp4
Resolution: 1920×1080
Duration: 00:16:15
Link (TezFiles):
Busty_Wife_Bound_and_Gagged_for_Ransom.mp4