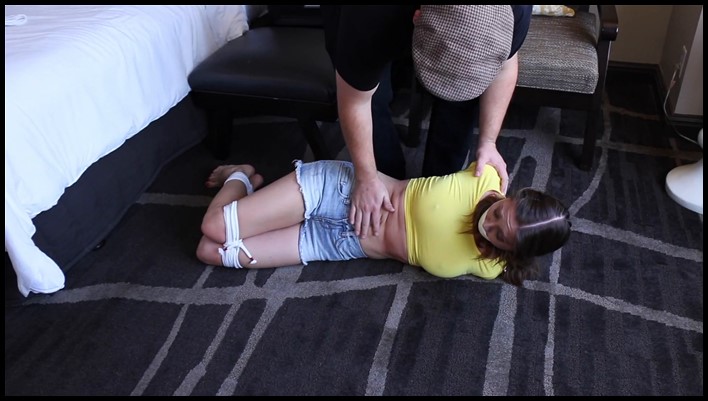 Chrissy's Bondage Therapy
15:15 video
Master Matt has scored another hot new client in his scheme to attract beautiful women in need of stress relief therapy. Chrissy arrives in her sexy cut offs and crop top and starts to explain the reason for her visit. She seems open minded when he pulls out the rope and explains his somewhat unconventional techniques, so he thinks maybe this time will go smoother than Brooke's Bondage Therapy did, perhaps this woman will even like it! He gets to work tying up her wrists, ankles and thighs nice and tight. She thinks thats all but then he forces her down onto the floor, and she starts to feel a bit weird about the situation when he goes to remove her shoes to make her more comfortable. She tells him she really doesn't like people touching her feet! But he doesn't listen and takes off her heels to reveal her smooth bare soles. Truthfully, her comfort was really the furthest thing from his mind. He forces her elbows together and binds them with more rope and she really starts to get upset with him for not stopping. She has definitely had enough therapy for one day! He decides she is starting to get too loud so stuffs a huge wad of cloth in her mouth which really shocks her and send her into distress. He seals it in with microfoam wrapped multiple times around her mouth and and head. She tries to get him to remove it but you can't understand a muffled word with this extremely effective gag in her mouth! Her screams can barely penetrate the gag, let alone the walls, just perfect for him!
He has really started to take a liking to Chrissy, so now that she can't call for help, he starts to get a little touchy feely. It's obvious she isn't wearing a bra so he can't resist but lift up her top to reveal her perky tits and grope them and she struggles and mmpphhss in disagreement! He finishes off by hogtying her, and leaves her helplessly bound and gagged while he goes to check on another tied up client in the other room! Chrissy can't believe what is happening, she struggles furiously and tries to be as loud as possible, but the ropes and gag are so tight that it's a hopeless effort. Eventually he returns for her. He picks her up while hogtied and throws her onto the bed. He tells her he is going to go freshen up so they can have some more fun together. Her eyes widen with horror and she struggles even more intensely now! Of course she won't be able to escape before he returns for her to have his way and blackmail her into writing him a great review to attract his next victim!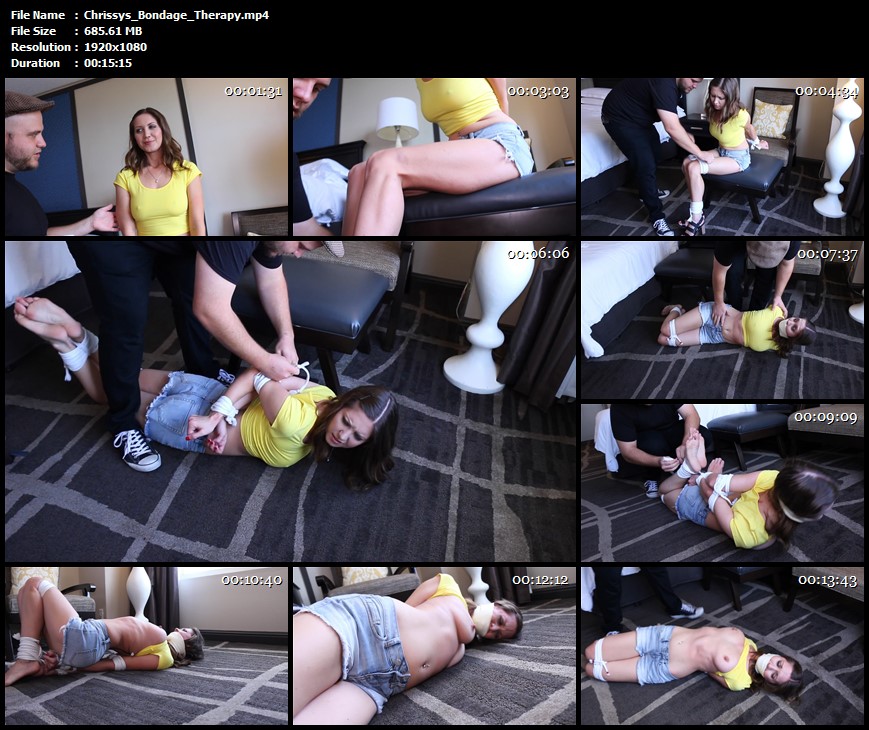 Clip name: Chrissys_Bondage_Therapy.mp4
Clip size: 685.612 MB
Format: mp4
Resolution: 1920×1080
Duration: 00:15:15
Link (TezFiles):
Chrissys_Bondage_Therapy.mp4