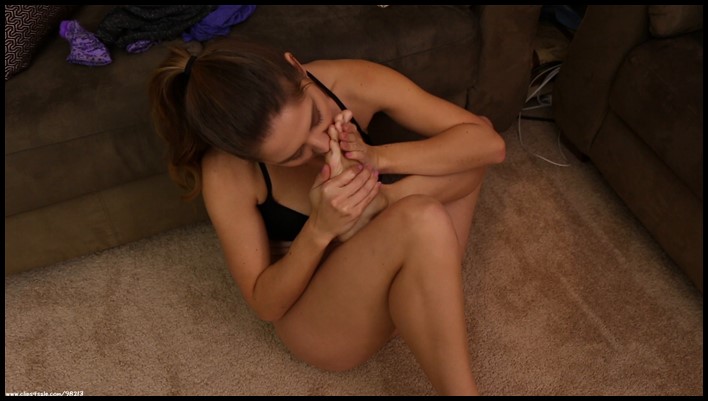 Home Invasion
16:43 video
This clip is shot POV with a silent cameraman –
I'm doing yoga stretches in my living room, preparing for a class I'm teaching later that day. After a minute of stretching, I hear an unexpected knock at the door. They are claiming to be the police and that they got a report of drug activity and that they must search my home. I start to get angry and tell them that I don't have any drugs and don't have to let them in, but they keep on persisting. I decide it's best not to cause problems, I'm not guilty anyway, so I go ahead and let them in. I can't help but pace back and forth while he slowly searches my belongings. I tell him to hurry up as I'm getting more and more impatient. Mid-rant, he starts threatening me, ordering me to put my hands on my head and go down to knees! I tell him I'm sorry and that I will be quiet and let me search my house in peace. Then he reveals he is not a police officer but instead a crazed fan!
He orders me first to remove my ankle socks to reveal my bare feet, then I'm forced strip out of my blouse and yoga pants, leaving my feeling humiliated standing there in my underwear, begging to be left alone. Instead, he orders me onto all fours like a puppy. I tell him there is no way I'm going to do that, but then he threatens me again so I obey and get down on all fours. Then he makes an outrageous request that I bark and whimper like a while wagging my butt back and forth. In fear for my life, I continue to obey his humiliating requests, but I get more and more furious as he makes me act like an . After a while I stand up and tell him enough is enough, but it backfires and he threatens me even more now, ordering me to plead like a puppy or else! He warns me if I ever do that again he will shoot!
Now he tells me to try worshiping my feet. I begin to suck my toes and lick my feet to fulfill his wishes. He makes me do this for quite a while, alternating between feet. I must admit I kind of like sucking on my toes for the first time, but after about 5 minutes I see an opportunity and decide to pounce and try to disarm the robber. My attempt fails as he hits me on the head and I fall back on the couch, begging for him not to shoot! I tell him if he loves feet, he must love barefoot bondage! I start to shove my socks in my mouth the prove to him that I will be an obedient slave now. I get down on my knees with my ass and bare soles to the camera and beg to be tied up!
To my surprise he doesn't tie me up rope but instead wraps me up head to ankles in duct tape! Then he gags me heavily with tape and tapes my big toes together as well. It is so tight I cannot move at all! I struggle, squirm and moan, wiggling my toes in an attempt to get lose, but it's no use, as the duct tape is wrapped far too tight! I hope this crazy fan doesn't leave me stuck in here for too much longer!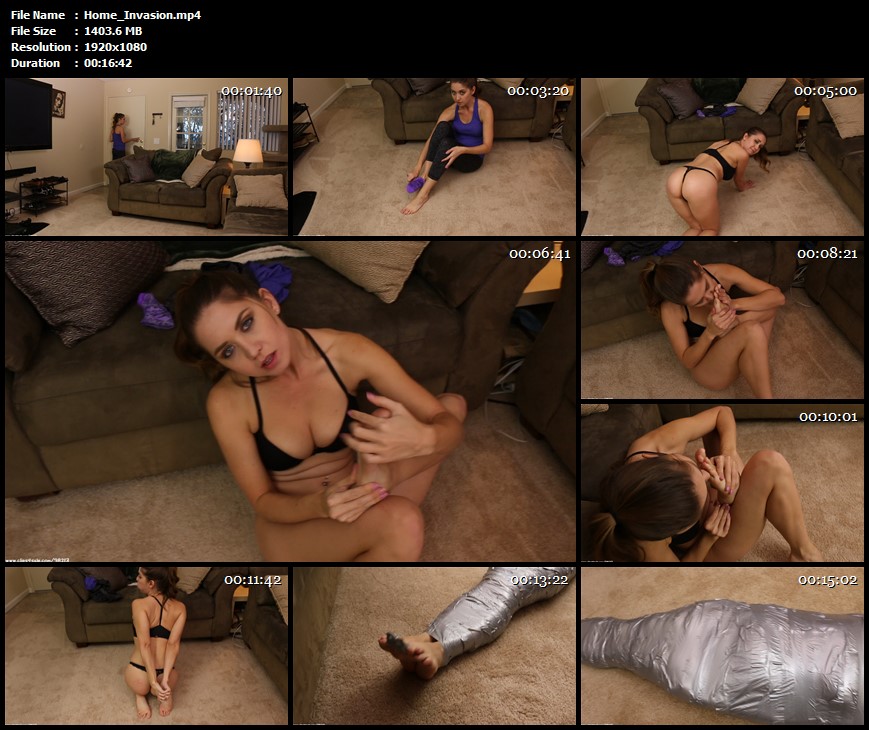 Clip name: Home_Invasion.mp4
Clip size: 1403.6 MB
Format: mp4
Resolution: 1920×1080
Duration: 00:16:42
Link (TezFiles):
Home_Invasion.mp4