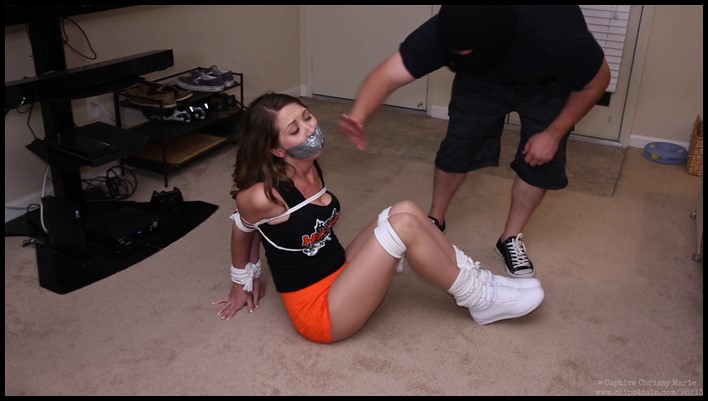 Hooters Girl Torturously Tied & Tape Gagged
18:00 video
Chrissy enters her apartment after working her shift at the local Hooters, completely unaware that there is an intruder hiding inside, waiting for her to come home so he can finally have his way with her! He has been stalking her for some time now, so he is well prepared for this occasion. She turns to hang up her keys and purse and when she turns back the masked intruder is quickly approaching her with a white cloth! She screams but has no time to escape before she is pinned up against the wall with the cloth covering her nose and mouth, forcing her to deeply breathe in the toxic fumes until her eyes roll back and she's knocked out, her limp body sliding down the wall to the floor. The intruder drags her to the middle of the room and immediately starts getting to work tying up her sneaker clad feet. He binds her wrists and pantyhose covered legs as well then decides to wait until she wakes up to finish the rest.
When Chrissy awakens, she is initially groggy and confused, then realizes that she's tied up with rope, and starts to remember what happened ! She looks around and doesn't see the man. She hopes that he left, but of course that's not the case! She starts struggling and he hears her from the bedroom, so he knows it's time to keep her quiet so he can finish his plans! She panics as he approaches her with a roll of duct tape. As she tries to beg and plead for him to let her go, he pulls out a huge wad of cloth and shoves it in her mouth! She struggles violently and mmmpphs, trying to spit it out in protest, so he gets even more cruel and pulls another wad of cloth out of his other pocket and packs her mouth to the brim! He seals it in with several strips of duct tape, sure to keep her quiet while he ties her up even tighter! He ties together her elbows and gropes her tits and ass as she's helplessly bound and gagged. He leaves her alone for a few minutes and she struggles like mad, eventually trying to scooch her way to the front the door, but he comes back just in time, dragging her by the ankles back to the middle of the room, and punishing her with a back breaking hogtie! He leaves to finish preparing the bedroom for his other devious plans. Chrissy struggles but is tied and gagged so tightly, she surely has no chance to escape, but she is going to try her hardest out of fear of what else the masked intruder is going to do to her!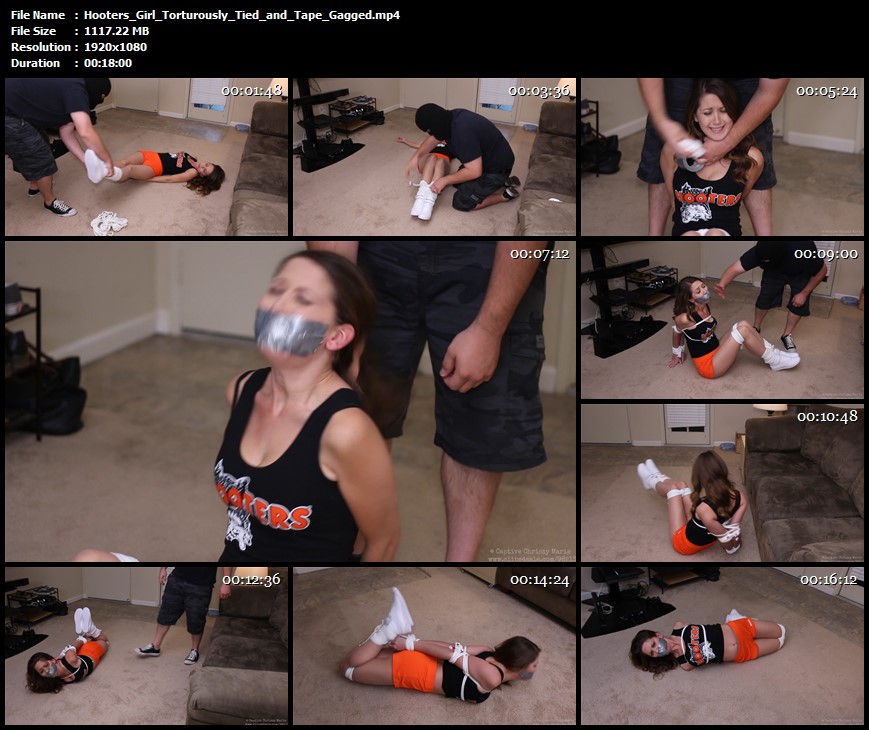 Clip name: Hooters_Girl_Torturously_Tied_and_Tape_Gagged.mp4
Clip size: 1117.22 MB
Format: mp4
Resolution: 1920×1080
Duration: 00:18:00
Link (TezFiles):
Hooters_Girl_Torturously_Tied_and_Tape_Gagged.mp4