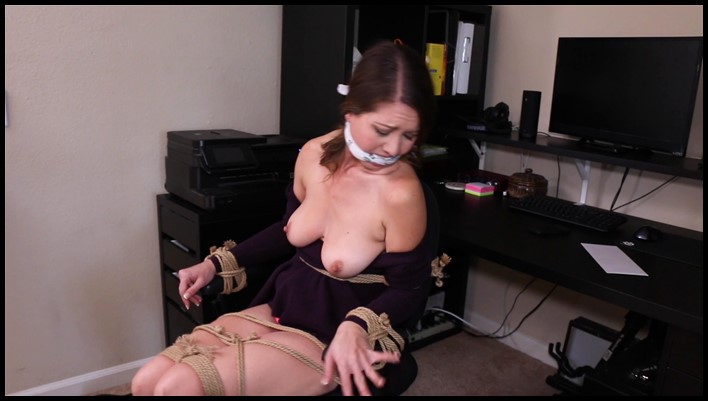 Insubordinate Secretary
16:51 video
Chrissy has been slacking off at her job, texting her friends all day, ignoring her manager, and now clients have been complaining about her phone etiquette. Her boss has finally had enough and plans to fire the troublesome secretary today. What he doesn't know is the little bitch has gathered plenty of blackmail on his company over the years, and now she feels invincible, convinced that he won't fire her, and instead will give her a raise! When he tries to give out her final check, she pulls a huge attitude and tries to take control of the situation, telling him she has plenty of secrets on him, so he can't fire her! The boss grows increasingly furious and threatens that if she doesn't cooperate, he might have to hurt her! She rolls her eyes and starts to say "You wouldn't fuck wit…." when he suddenly hand gags her tightly to shut her up! Her eyes widen as she struggles furiously. He can't believe she just won't give up, so the boss knows he is going to have to secure her until he can figure out what to do about her insubordination!
He ties her to her own desk chair with some scratchy rope from the back room (tying off screen). She protests and demands that he let her go immediately, or else! But now that she is so tightly bound, she knows she's lost all her power. He starts to pull down her sweater dress and grope her big tits. The secretary starts to get really loud and angry because of this, so he stuffs a huge wad of cloth in her mouth and tightly ties a bandana between teeth to silence her while he makes some calls. He has some buddies that will know just how to get rid of her so he will never have to deal with little bitch again! He leaves her helplessly bound and gagged and humiliatingly stripped topless, assuring her that he will return for her shortly.
She knows there's not much time to escape and struggles as hard as she can, but the ropes won't budge! She attempts to reach for her cell phone, but it's too far away, so she gets her high heels off and uses her bare feet to try and open the drawers to find some scissors, but then she realizes that she left the up high on the shelf and she can't reach those either! What is she supposed to now! She tries to call for help, but her mouth is packed so full, no one could possibly hear her outside of this room! She thought she knew all his secrets, but apparently she didn't know as much as she thought she did. Now it really starts to set in what she's gotten herself into, she picked the wrong person to piss off!
Includes three and a half minutes of behind the scenes rope removal and Chrissy modeling her rope marked legs!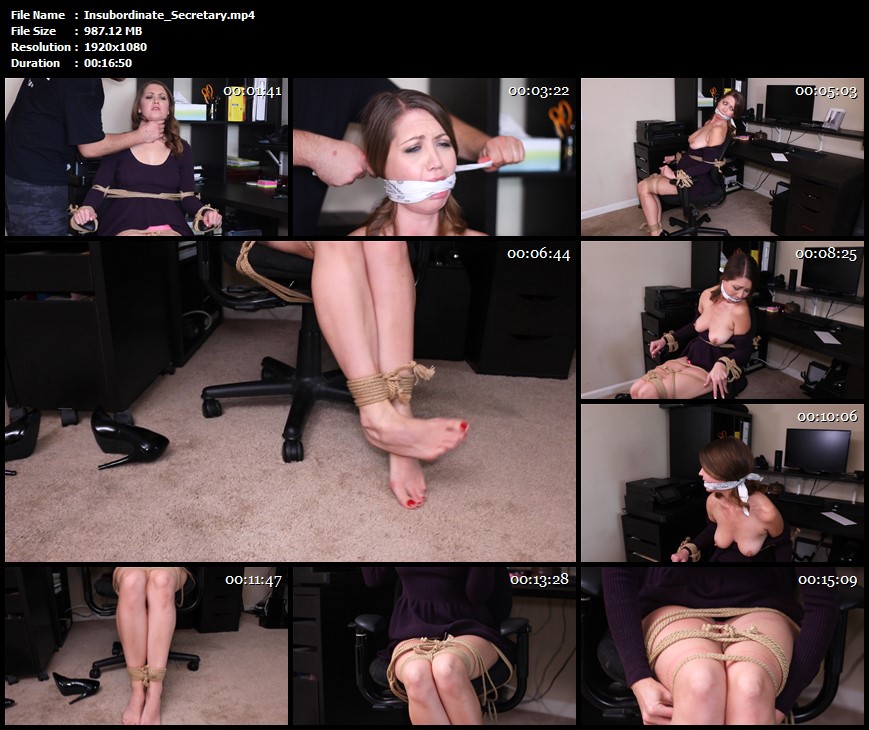 Clip name: Insubordinate_Secretary.mp4
Clip size: 987.124 MB
Format: mp4
Resolution: 1920×1080
Duration: 00:16:50
Link (TezFiles):
Insubordinate_Secretary.mp4