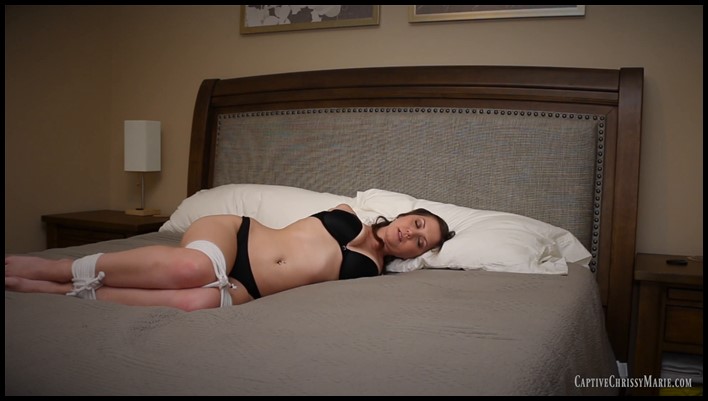 Nightmares On Halloween
9:25 video
3 perilous mini vignettes! –
In part one the lovely damsel is at the dinner table with a man. He seems to be enjoying his dinner. She seems scared. She is tied to the chair and is wearing a nice black dress, begging to be released. She promises not to tell anyone what happened. The man seems annoyed and tells her she is ruining dinner. She continues pleading till he gets up and takes off his neck tie. She realizes that he is going to gag her with it so she starts promising to be quiet as he cleave gags her tightly with it! The man continues to eat and enjoy his dinner while she mmphs and struggles. He begins to tell her how delicious the meal is. It is revealed that he is a cannibal and that he is eating her boyfriend. He tells her that he is sure she will be delicious as well. He comes to her and sniffs her hair and tells her he is saving her for dessert. The scene ends with her struggling and mmphing while he continues to eat.
In part two our lovely damsel hanging out with her boyfriend in his bedroom. They are talking about the date they are going to have and she says she is really excited and just has to get changed. She asks if she can use the bathroom to change. The boyfriend begs her to change in front of him. She is shy at first but agrees and teases him while she strips to her underwear. She is about to change into her dress when the boyfriend approaches her and pins her up against the wall with a cloth over her nose and mouth! Her eyes roll back as her body falls limp and he throws her on the bed to tie her up. She wakes up confused and asks him what he is doing. He tells her he has to sacrifice her to a monster that lives in his closet. She tells him he is crazy until she hears a scary noise coming from his closet. He tells her that he has to make a sacrifice to the monster every Halloween or else the monster will eat him. She begs and pleads with him let her go. He tells her he is so sorry but he can't. She begins to scream for help. He pulls out a long black sock and cleave gags her tightly to quiet her down. Her pleas turn to mmmpphs. He continues to tell her how sorry he is and that it will be over before she knows it as she mmphs and struggles. He makes sure her bonds are nice and tight as he they wait together for midnight to come!
Part three begins with out lovely damsel waking up in a panic. She states how she hates Halloween and that she should have never seen so many scary movies! Suddenly she sees a shadowy figure in the corner. She is scared and yells out who's there?! Suddenly a man magically appears next to her. He first puts his hand over her mouth and tells her to be quiet. He takes out a rag and stuffs it in her mouth. She is terrified but he tells her not to be afraid. She fades out and when she wakes up she is tied up with rope. She is still gagged with the rag but spits it out as she wakes up and asks what he has planned for her. She asks if he is going to hurt her. He doesn't answer but instead he takes out a black bandana and cleave gags her with it as she mmphs and struggles. He tells her that she is to provide him with something he needs to survive. He shows her his fangs. She mmphs and struggles fiercely as she realizes he is a vampire! He approaches her and smells her neck. He takes pleasure in how delicious she smells. He tells her he will not take her life, but only what he needs to survive. She is scared and mmphing as he bites her neck. Then she begins to calm down and moan with perilous pleasure as the scene fades.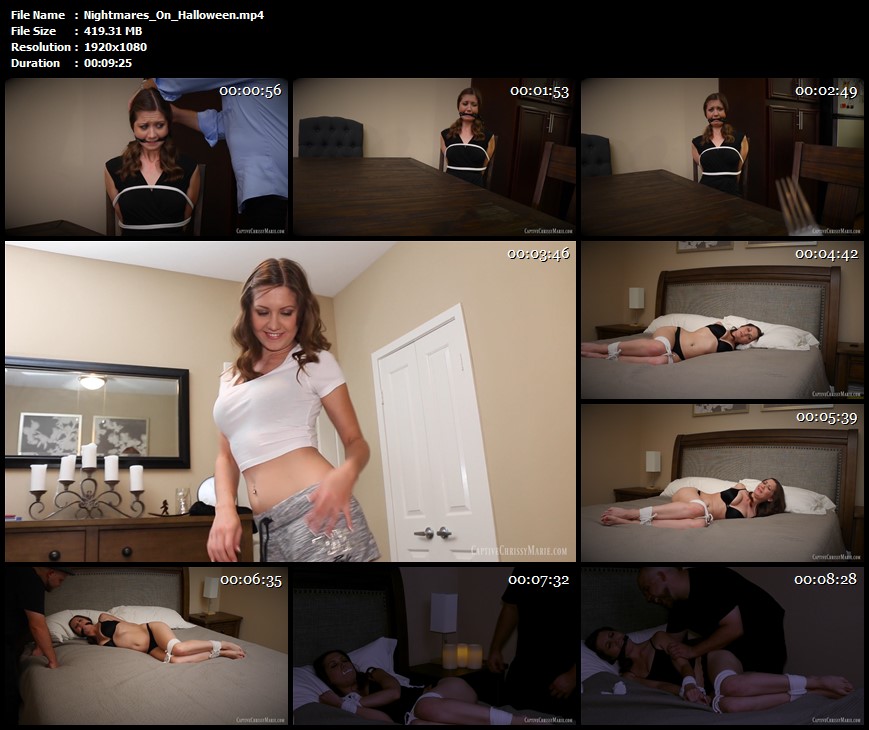 Clip name: Nightmares_On_Halloween.mp4
Clip size: 419.309 MB
Format: mp4
Resolution: 1920×1080
Duration: 00:09:25
Link (TezFiles):
Nightmares_On_Halloween.mp4