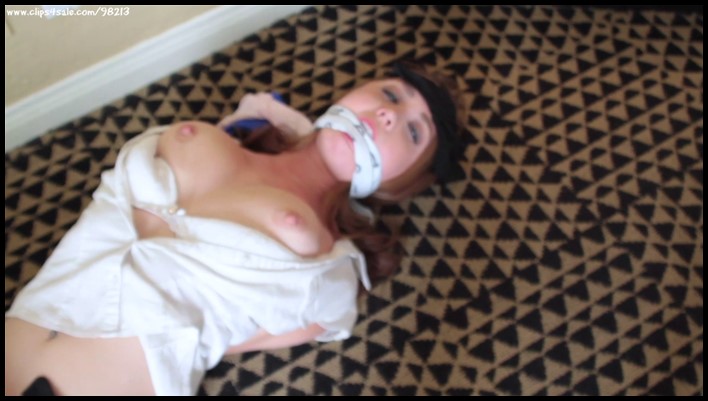 Please, Please Will You Tie Me Up!
12:31 video
I love being a successful businesswoman, but sometimes that means people just assume Im the dominating type. Truth is, away from the office I really like to be dominated like a submissive little slut. So today I called you, one of my employees, over to my house after work. When you arrive, I tell you that I am looking for a service, but it must stay behind closed doors (or else!). I explain I want to be dominated and punished and that it would ultimately satisfy me. I pull out a bag of rope and sex toys and various bondage props to perhaps help initiate, but you seem unsure of what to do. At this point on Im on my knees, begging to be dominated. I seduce you with my cleavage and plead with you to indulge me until you finally agree.
Our session has begun, and you instruct me that I will call you sir after instructions are given. Yes, sir. You tell me to let my hair down. Then you tell me to turn around and bend over the bed. You start gently caressing my ass before administering a firm spanking that makes me moan in delight. You tell me Im going to be tied up. I can hardly wait.
Now my wrists, elbows, ankles and thighs have been tightly bound. A few buttons on my blouse and trousers have been opened, exposing my lacy bra and panties. Im starting to feel incredibly turned on by predicament. I must say, job well done! One thing is missing though, I dont like the fact that I am able to talk. I think you need to gag my dirty whore mouth. I can tell you have just the idea.
You come up with a few pairs of my dirty panties. I love the idea, and beg to be gagged. I feel the anticipation building, and my pussy getting so wet as you shove those panties deep into my mouth. You seal them in with a cleave gag and lay me down to struggle and squirm, covering my head with the remaining dirty panties. You pull my tits out of my bra revealing my perky hard nipples, just begging to be pinched and sucked. The humiliation, lack of control and tightness of the ropes continue to turn me on as I moan pleasurably through my gag throughout our session. Theyll definitely be a bonus in your paycheck next week!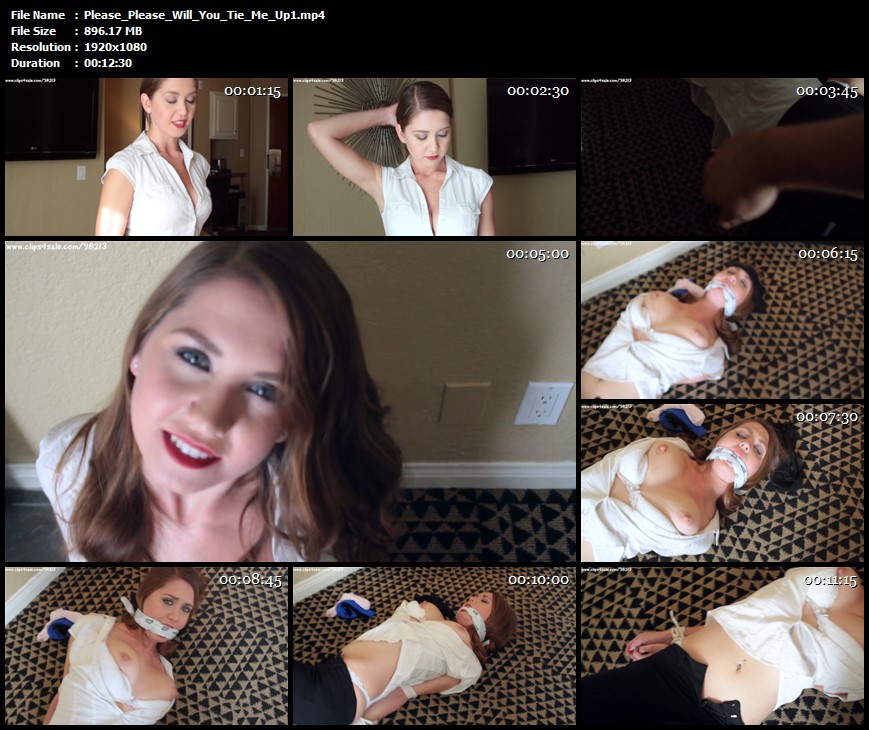 Clip name: Please_Please_Will_You_Tie_Me_Up1.mp4
Clip size: 896.166 MB
Format: mp4
Resolution: 1920×1080
Duration: 00:12:30
Link (TezFiles):
Please_Please_Will_You_Tie_Me_Up1.mp4