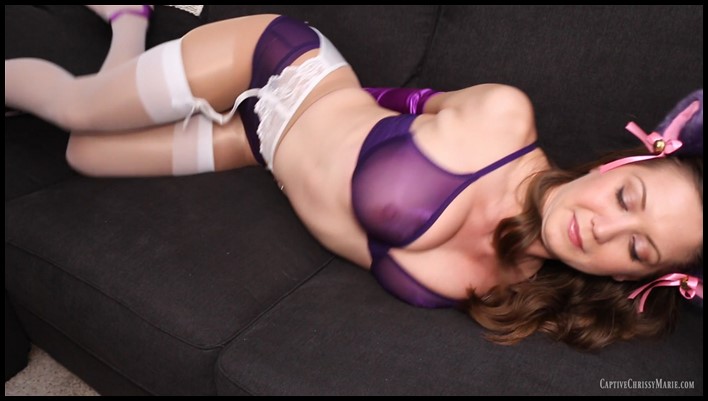 Pokemon Go For Real Pt.
12:15 video
Chrissy's boyfriend has been ignoring her lately. He works too much and when he's not working, he is playing Pokemon Go. Chrissy hatches a plan to capture his attention. She is sitting on her couch when calling up her friend to complain about her boyfriend… "Hey, are you busy? Want to help me play a little prank on my boyfriend? Ok, come over!" Chrissy's friend shows up and she invites him in. They sit on the couch and Chrissy explains that her BF is always at work or out playing Pokemon Go. He hardly spends any time with her any more. She further explains that she came up with a creative idea to entice him to come over. She created a Pokemon Game of her own design.
Chrissy gets up and removes her robe. Then she hands a small bag to her friend who is still seated on the couch and tells him her idea. She explains she is a wild Pokemon captured by an evil Pokemon trainer, and that he needs to tie her up and use her phone to take some pictures to send to her boyfriend with a caption explaining that he should rescue her. Her friend obviously agrees to help her out, so she asks him for the couch, and lays down face first and instructing him to start by tying her hands behind her back.After her wrists are bound Chrissy rolls over and lifts her legs and points her toes towards her friend, signaling for him to tie her legs together so she can't run away. Once finished she tells him she definitely can't escape, but he will also have to gag her for the photos. She tells him there should be some purple pantyhose in the bag and he should use them for the gag. He enthusiastically wraps the pantyhose around Chrissy's head 3 times, tightly cleave gagging her. Chrissy asks him to take the pictures as they discussed. After taking the photos, her friend sits down on the couch and Chrissy drapes her nylon covered legs over his lap. He pulls the gag out and leaves it around her neck. Chrissy asks if he will hang out with her for a bit until she gets a message that he is on the way, she doesn't want to be tied up like this all alone.
Chrissy talks about how she likes being tied up and slowly starts to get horny from her friend caressing her legs and feet. He slowly works his hands up her legs as is getting more and more worked up. Then gets up and kneels down in front of Chrissy's face and says "Can I tell you a secret? I never actually sent those pics or texts to your BF." Chrissy responds "Can I tell you a secret? I never actually expected you to. Now you better gag me because the more excited I get, the louder I get!" Her friend firmly reverse hand gags Chrissy. He then fondles her breasts with his free hand. After a few minutes, he tells her he has another surprise for her. She is eager to see what it could be. He pulls out a cloth and presses it over Chrissy's nose and mouth. She breaths it in, enjoying their game and slowly, seductively passes out. He lifts her up and throws her over his shoulder, carrying her off to the bedroom for more fun!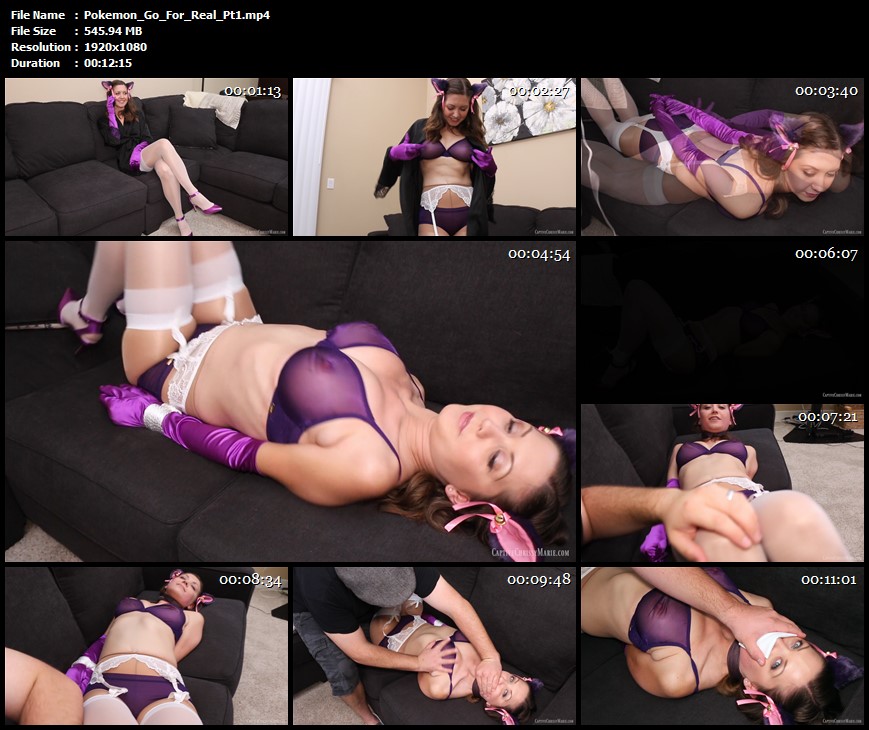 Clip name: Pokemon_Go_For_Real_Pt1.mp4
Clip size: 545.942 MB
Format: mp4
Resolution: 1920×1080
Duration: 00:12:15
Link (TezFiles):
Pokemon_Go_For_Real_Pt1.mp4