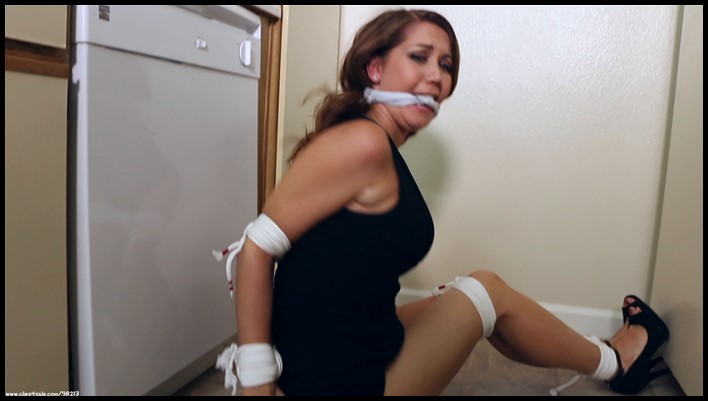 Repair Man Revenge Pt
11:01 video
I'm having a really rough day, traffic was horrible, I was late getting home, then my kitchen sink started backing up, of course just in time for a very important party I'm supposed to be throwing later tonight! I call emergency maintenance and luckily the repair man is able to make it over right away. I try to stay patient while he examines the pipes even though he seems to be taking his sweet time. Then he starts telling me he thinks I'm going to need a part that is going to take a few weeks! I snap and accuse him of not even knowing how to do his own job. I tell him I need a drink and turn to look in the refrigerator when he decides he's had enough of my bitchy attitude and grabs me from behind, hand gagging and smothering me as I fight and struggle to get away, but I grow weaker and weaker and eventually slump limp in his arms as he lowers down onto the kitchen floor.
He starts tying up my wrists, elbows and legs while I'm knocked out, but I start to wake up before he finishes tying my ankles. I plead with him to stop and let me go, struggling against his attempt to tie me up. He decides I'm being far too loud and needs to shut me up before the neighbors call the cops, so he grabs a bandana out of his pocket and gags me tightly with it. He leaves me tied up and helplessly struggling on the cold kitchen floor while he decides what to do with me. I squirm around and try to escape from the tight ropes. I can't believe he just snapped on me like that, there is no way he can get away with this. I manage to slip of my high heels, thinking that I might have better luck escaping the ankle ropes, but I was wrong. I keep struggling and moaning aimlessly and start to give up just as he returns. Then he tells me he is going to take me into the bedroom, and I panic and struggle violently as he lifts me up off the floor, kicking my bare feet and screaming through my gag as he cradle carries me into the bedroom and throws me on my bed. He pulls out my tits, gropes me and tells me he is going to leave me here bound and gagged to learn my lesson. I beg him not to but he leaves anyway and slams the door. I have to keep trying to get free, I'm expecting guests anytime now and I can't let them find me like this, that would be so embarrassing!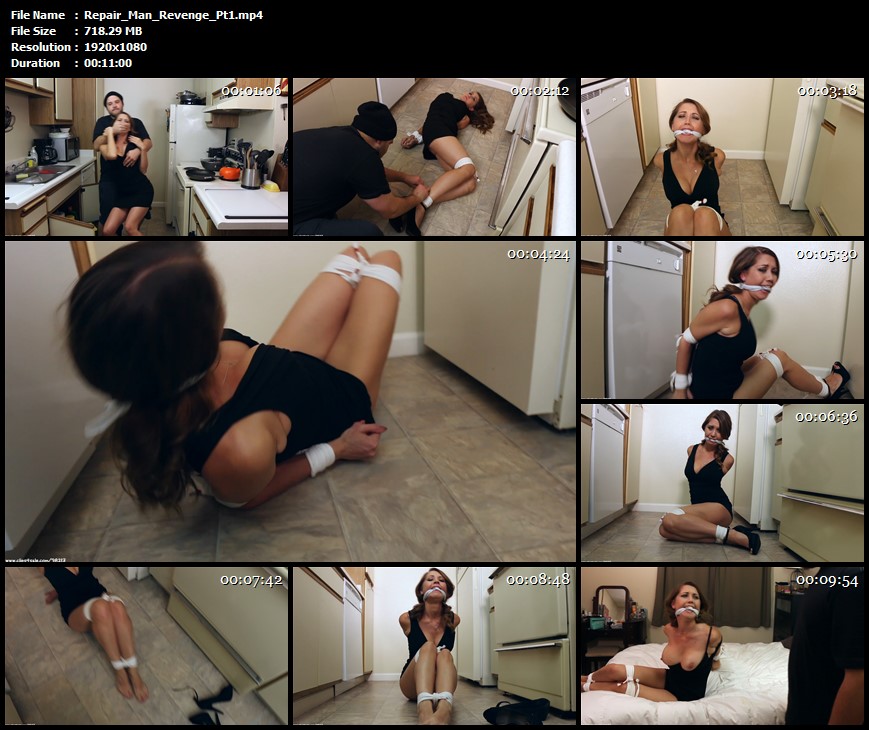 Clip name: Repair_Man_Revenge_Pt1.mp4
Clip size: 718.285 MB
Format: mp4
Resolution: 1920×1080
Duration: 00:11:00
Link (TezFiles):
Repair_Man_Revenge_Pt1.mp4