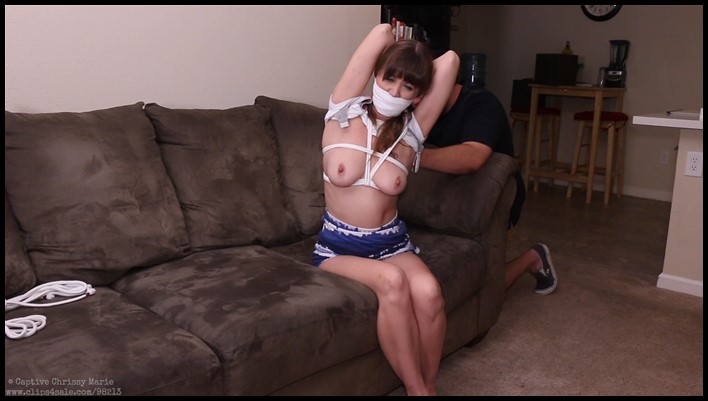 Ride Share Abductionist
17:42 video
Chrissy got separated from her friends and couldn't find her way back, so she decided just to call a driver from one of those apps on her phone. While she is waiting she is being watched by a man, admiring her long tan legs and tight body from a distance. He has been looking for someone to tie up for quite some time, and she looks just perfect, just his type. He decides to drive up and ask what she is doing all alone out here. She tells him she is waiting for her driver, so he takes a chance to see how easy she is. He tells her that he is the driver, but she mentions that the car isn't a match. He just says they haven't updated his information, and that's enough for her to believe him, plus she is desperate for a ride home! She hops in the back seat and asks if he knows his way back to the city, but she barely buckles her seatbelt before he sprays something in her face and she starts to get dizzy, her eyes roll, and her head falls limp. He ties her ankles and wrists while she is knocked out and starts to make his way to his hideout, but before he can make it there she wakes up and starts to panic. She struggles and begs him to let her go, trying to scream for help, but no one can hear her outside of the car windows, and there is barely anyone around! She can't believe she trusted a complete stranger!
Once they arrive he unties her ankles to walk and sneaks her inside with a coat to hide her bound wrists. He throws her on the couch, strips her topless and rips off her panties. She fears the worse, begging him not to hurt her, or worse! He proceeds to stuff her panties in her mouth to shut her up before she gets any louder, then wraps and ace bandage around her head, tightly sealing them in! She is so frightened that she can barely struggle as he finishes tying her up. He is so cruel he even ties he arms back behind her head! He leaves her struggling while he goes to set up for his plans. This is her only chance and she tries her hardest to escape, but she barely makes it off the couch before he catches her. He decides she will need to be tied even tighter too keep her in place until he is ready for her, so he ties an insane hogtie, leaving Chrissy completely helpless and barely able to move! We see her struggle and mmpphh helplessly bound and gagged on the floor until he returns to undo her hogtie and carry her off to the bedroom!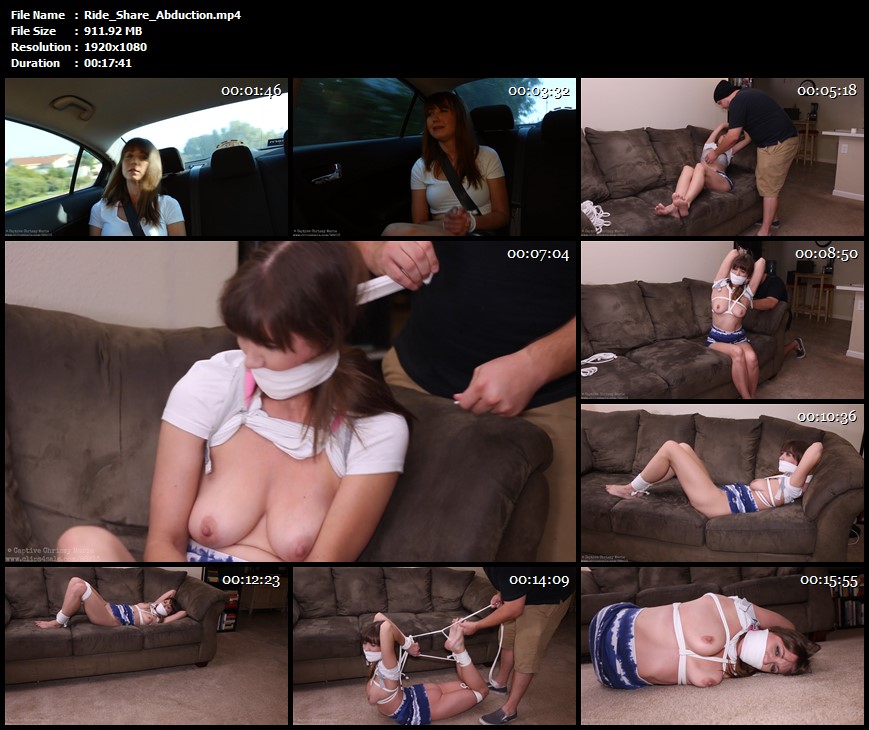 Clip name: Ride_Share_Abduction.mp4
Clip size: 911.916 MB
Format: mp4
Resolution: 1920×1080
Duration: 00:17:41
Link (TezFiles):
Ride_Share_Abduction.mp4