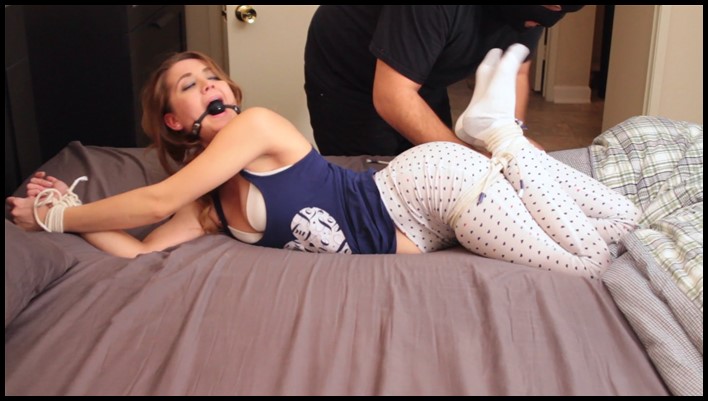 Robbed & Wrapped Under The Tree!
22:56 video
It's a few nights before Christmas and I'm lying in bed in my PJ's and socks, texting a few friends before I turn in for the evening. I hear a strange noise, but don't think much of it. Next thing I know, I hear footsteps getting closer, but it's too late as I try to scream for help I'm grabbed and hand gagged by the intruder! He ties my hands over head and to the bed as I beg for the robber to let me go. I'm very frightened as he starts tying my ankles to my thighs, almost like a frog tie, but then ties my socked feet together as well. He pulls out a ball gag, and quickly overpowering my resistance, he shoves it into my complaining little mouth. He leaves me there alone, tied up, helpless and humiliated.
After some time of struggling, the masked robber returns and starts untying me! I think how lucky am I, he must have finished robbing me and is going to untie me and leave me be. Unfortunately, I was very wrong, as he lifts me up and carries me out of the room with him!He then ties my hands overhead, duct tapes my feet together, and starts wrapping my whole body in tight shiny green plastic wrap! He violates me and spanks my bottom in the process, as I feel more and more restricted as he wraps several layers around me. After my body is completely wrapped up he unties my hands from overhead, I try to hop away but he grabs me and duct tapes my hands behind my back before finishing with another layer of saran wrap around my arms to keep them pinned to my back.
As if I wasn't immobilized enough, he feels the need to add a few strips of duct tape as well to keep the wrap nice and tight. He deems his job done as he lays me down under the Christmas. He finally leaves and I'm left helplessly wiggling and struggling, still gagged and wrapped like a present for Santa to find! I hope I made Santa's 'nice' list this year!!!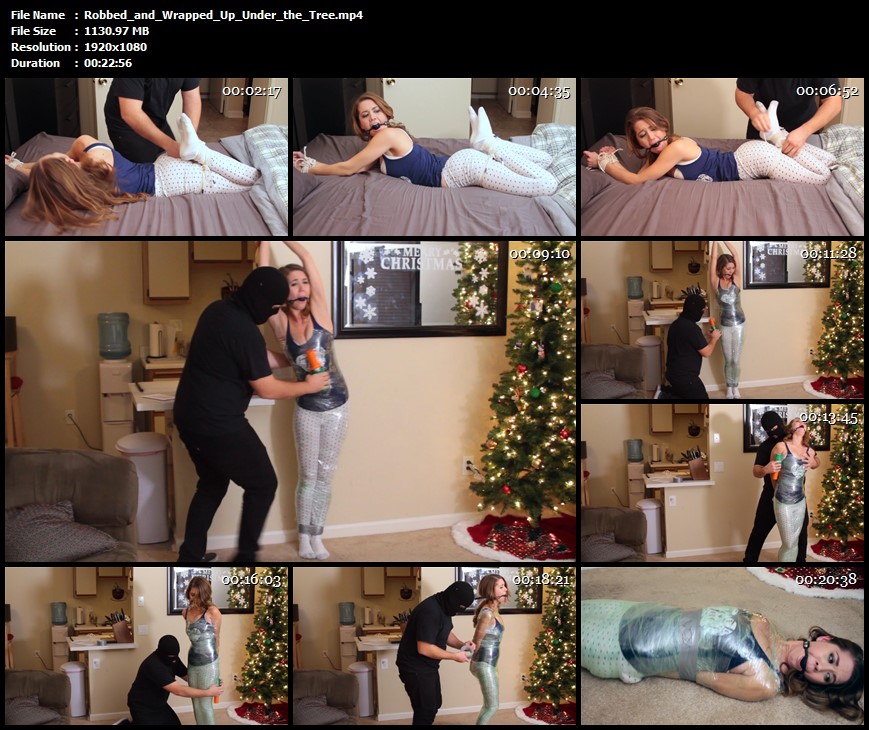 Clip name: Robbed_and_Wrapped_Up_Under_the_Tree.mp4
Clip size: 1130.97 MB
Format: mp4
Resolution: 1920×1080
Duration: 00:22:56
Link (TezFiles):
Robbed_and_Wrapped_Up_Under_the_Tree.mp4