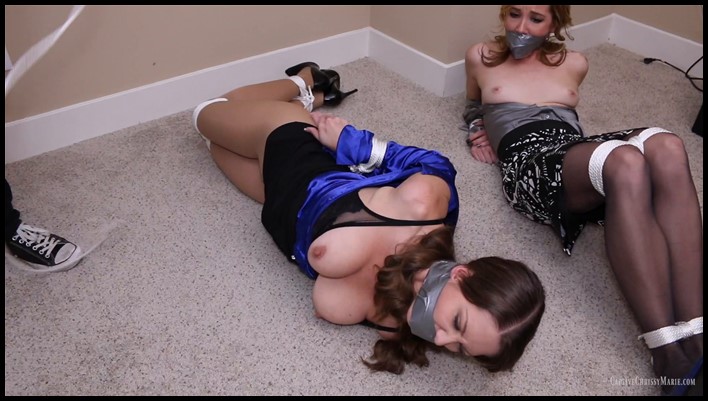 Secretaries Held Hostage Hogtied & Heavily Gagged
19:20 video
Starring Janira Wolfe & Chrissy Marie –
Today is Janira's first day in training to be a secretary. She will be trained by Chrissy who has been the secretary here for quite some time now. She knows all the rules and regulations and always follows the rules. Janira arrives to Chrissy's office well dressed and right on time. It's a Saturday and the office is empty, which makes for an easier learning environment. Right away Chrissy makes it clear that under no circumstances can they give out the password to the confidential company files. There is a lot of client's secret information in there and she could easily lose her job if she did such a wreck less thing. Sure that Janira understand the seriousness of the matter she moves on to lighter subjects and starts showing her how to check the emails and such, but after a minute a man comes in threatening them. They ask him what he wants and he orders them to give up the passwords to the computer and files. Janira starts to think this must be a drill to see if she will give in so she refuses, and Chrissy can't find it in her to break the rules and give up the info. Well then, if they won't cooperate, he will have to hold them hostage until he can hack into it himself! He orders Chrissy to hand gag Janira as he prepares to tie her up! (Off screen tying)
Once secured and sick of their pathetic bitching and pleading he finds some of their dirty panties from a gym bag nearby. He packs Chrissy's mouth full as Janira watches in horror, begging him to stop doing that to her! She doesn't understand, she thought this was just a test? Chrissy looks at her wide eyes as the tape is being wrapped around her head, and shakes her head no, and just then Janira realizes that this is all real and she is really in danger! He quickly finishes gagging Chrissy and goes over to Janira who has gotten far to loud. He stuffs panties into her mouth and seals them in with several wraps of duct tape around her long blonde hair until she very heavily gagged! He leaves them struggling in their chairs as he makes his first attempt at hacking the system. Frustrated at how tightly he tied their wrist and ankles, they frustratingly mmppphhh and gag talk to each other to try and figure out a plan of escape.
Chrissy gets up and starts hopping around the room in search of a sharp object, and Janira follows her lead. She leans up against the desk and manages to grab some scissors. Such a resourceful secretary, but unfortunately just as she is on the brink of freeing herself the bad guy comes back to check on them! He orders them to hop back into their chairs where he strips their blouses open, he knows leaving them topless and humiliated should really get his point across. He tells them if can't figure out the password this time that he will be back and it will get even worse for them! He binds both girls' elbows together and tightly hogties them on the floor leaving them with virtually no chance of escape. The two secretaries struggle and roll around desperately trying to break free from the ropes. Chrissy's skirt slides up as she squirms around on the floor, showing more of her shiny pantyhose covered legs and reveals she isn't wearing any panties! She also manages to kick her heels off, but it doesn't prove very useful. Then Janira kicks off her heels and they try to loosen each other's ropes with their feet! Chrissy is starting to feel hopeless while Janira continues to fight to no avail. He eventually returns and breaks the news that he got what he needed, no thanks to them. Since he won't be needing them any longer he decided he will just leave them there to be found bound, gagged and topless on Monday morning!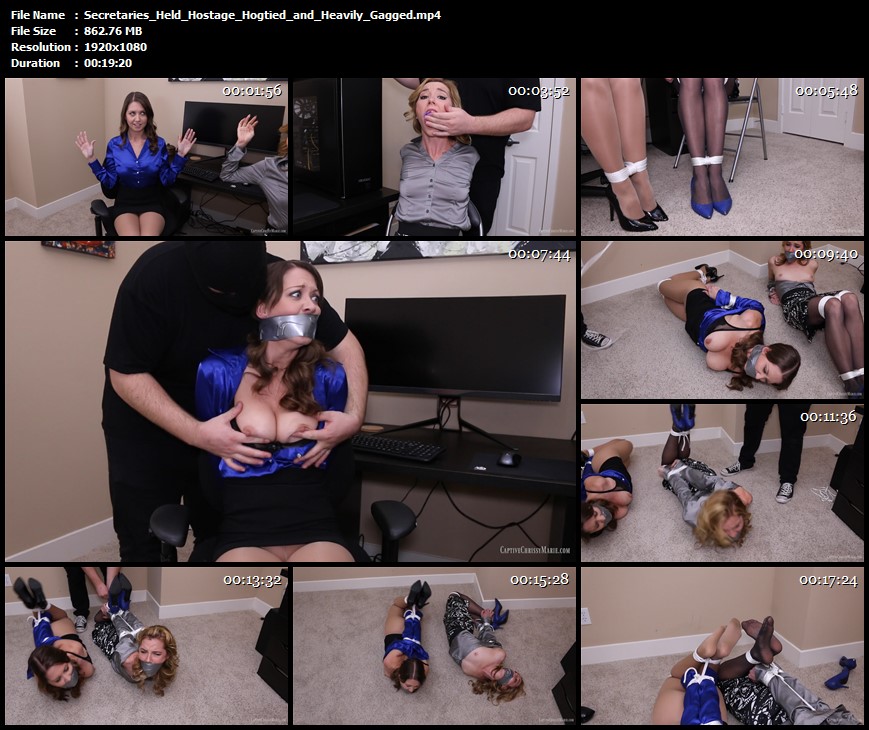 Clip name: Secretaries_Held_Hostage_Hogtied_and_Heavily_Gagged.mp4
Clip size: 862.764 MB
Format: mp4
Resolution: 1920×1080
Duration: 00:19:20
Link (TezFiles):
Secretaries_Held_Hostage_Hogtied_and_Heavily_Gagged.mp4