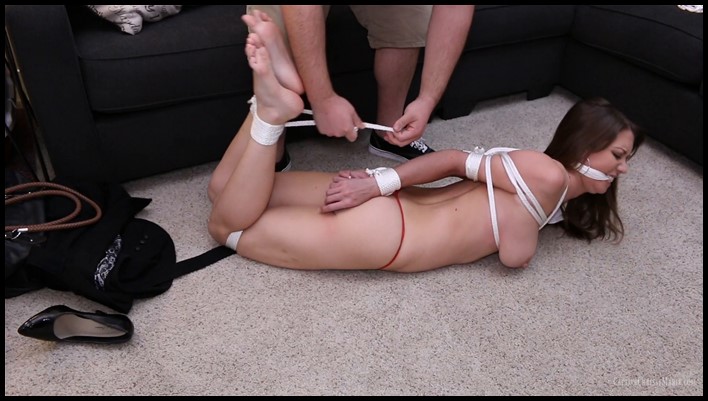 Stripper Bound Against Her Will
18:06 video
He ordered a stripper and she arrived right on time, dressed in her high heels and black thigh length coat. She starts flirting with him and teasing him and reveals her shiny mini dress and sexy thong as she dances for him. When she finally revealed her perfect tits he knew he had to have her. He started slow, and also has a foot fetish so asked her if she would take off her heels and put her foot on his lap. She seems a little confused at his request, but agreed as she saw no harm in it. He admires her soft feet and after a bit she asks if he would like her to dance some more for him. He tells her he thinks he has a better idea…..She asks what he has in mind and he starts suggesting that he could tie her up. She laughs it off at first and tries to be nice, but tells him that she doesn't do that type of stuff and she is just here to work as a stripper. He keeps pressuring her so she tells him maybe he should find another stripper and turns to get her things and leave. This is his last chance to tie up and toruture a hot girl like her guilt free, since he is supposed to get married tomorrow and is certain his wife to be would never consider it! He reacts and quickly grabs her and hand gags her from behind. She struggles violently and tries to scream through the handgag. He will need something more permanent, so he orders he to cooperate or else he will hurt her worse! He tightly cleave gags her with a white cloth as she is forced to hold her hair up for him. It's worse than she could have imagined and tries to loosen the gag around her mouth but he catches her, just in time to tie her up! (off screen tying)
She is bound wrists, elbows, ankles, thighs as well as tightly around her tits! She struggles on the floor angry but also scared and desperate to escape. Then she thinks of the cell phone deep inside her purse. Could she possibly get to it tied up so tightly? It seems like her only hope so she goes for it, but isn't able to find it before he returns with more rope! He hogties her and tells her he will have an even better surprise for her later! After briefly tickling her bare soles and sucking her toes as she squirms, he leaves her struggling again but now there is no way she can her bare feet into her purse to find that phone. She has to try to find a way out of the ropes but they are so tight she stands little chance. When he finally returns to the room she begs him to let her go. She even tries to bargain with him and gag talks that she would give him a blow job if he lets her go now. He just laughs because what he has planned is a hell of a lot better than a blow job. He ties her toes so tight that she is sure they will fall off! She struggles and mmpphhs in distress as he pulls the rope through her gag, pulling it even tighter as her toes point towards her head. She struggles helpless bound and severly gagged, with no choice but to accept that she will be this mans play thing for the night whether she likes it or not! If she would have just agreed to it in the first place maybe he would have went easier on her!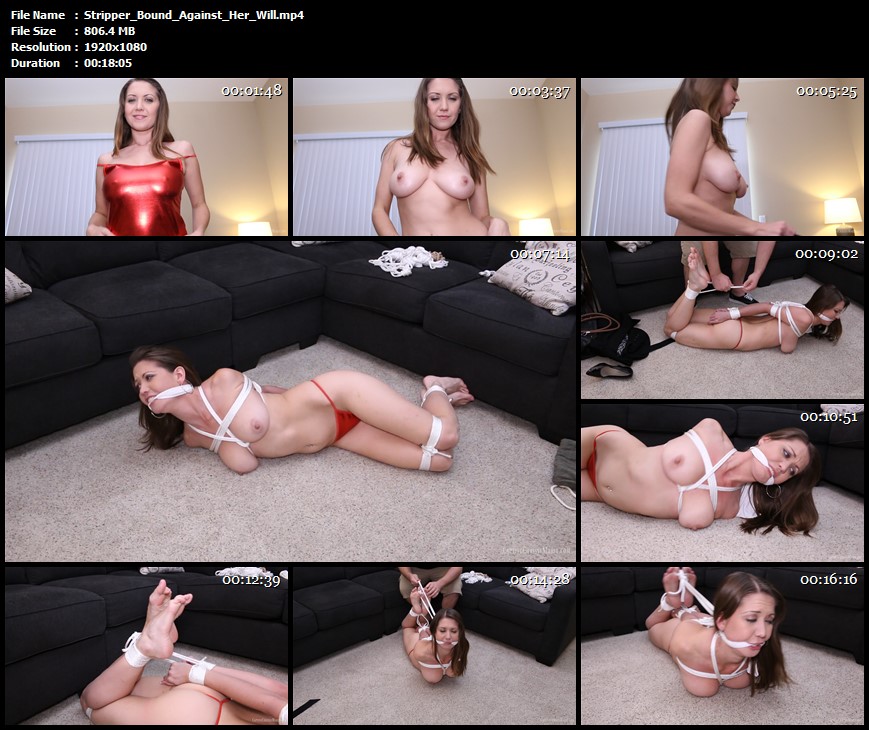 Clip name: Stripper_Bound_Against_Her_Will.mp4
Clip size: 806.398 MB
Format: mp4
Resolution: 1920×1080
Duration: 00:18:05
Link (TezFiles):
Stripper_Bound_Against_Her_Will.mp4