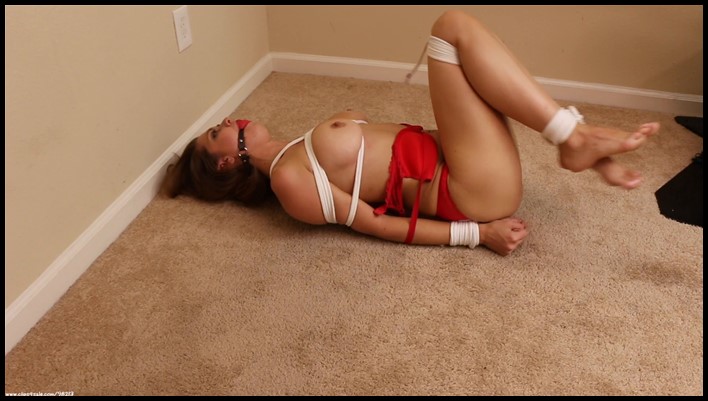 Submissive Screening Pt &
31:35 video
I recently found an ad online for someone searching for a submissive and something about it was quite intriguing to me. I've been extremely stressed out with my career and work drama, and this sounds like a great way to let go of being the controlling type and decompress from all the stress. After a few written exchanges, I've decided to give it a try, even though part of me is thinking it's not a good idea to meet a stranger from the internet at his home, but this is all about trying new and adventurous things, right?
I arrive at the agreed time, feeling quite anxious, I've never went into something so blindly before! He invites me to sit and starts to question me on why I want to be his sub. I begin by telling him about my work drama, stress, and desire to surrender control. He quickly cuts to the chase and asks if I wore the outfit he told me to wear. I say I did, and stand up, slowly removing my coat to reveal my sexy red bra and panties, showing them off, as requested. He flatters me and tells me he definitely thinks I can be his sub. I ask him what I need to do, what will this involve? He goes on to tell me that part of being a submissive is that I must follow his orders and I'm not going to know what's going on ahead of time, that's part of surrendering control. "That makes sense" I say. He mentions that this session will determine if I'm fit to be his submissive, and leaves to get his materials so we can begin the screening.
He comes back with a whole bunch of ropes, and orders me to put my wrists behind my back. I start to try and converse… "So should we get to know each other or just…?" and he interrupts me saying "No more talking! Part of being a sub is you must not question me and only speak when you are spoken to" and I stay silent while he finishes tying my hands. Once he is done he tells me before we go any further he is going to remove my top! "That's a little fast for that…" I start to question him and he tells me again to stop talking. He removes my bra saying "if you're going to be my sub ,you must do everything I say, you understand?" and I reply with a "Yes, Sir", little did I know, that is not the correct response, as he questions my response. "From now on you will always refer to me as Master" He says. I reply with a "Yes, Master", much to his liking. He starts tying up my breasts as I think to myself I can't believe I am doing this. I'm not sure yet if I like the tight feeling of the ropes restricting me, but I continue to play along.
He finishes tying the chest harness, groping my bound breasts firmly and pinching my nipples which starts arousing me. I must admit, it does start to feel really good to feel so controlled, I've always had secret desires of a man treating me like his slave or sex object, but everyone I've dated in real life is always so respectful and vanilla in the bedroom. He lowers me down onto the floor to finish tying me up. He asks "are the ropes tight slave?" and I tell him that the wrists are really tight. "You like it like that don't you?" and after a short hesitation I reply "Yes, Master". I start to writhe and wiggle in the ropes as he finishes the ties. I'm much more restricted than I had expected!
"I like those shoes, but I would like them even better if they were off, my slaves have to have nice feet" he says as he starts to remove my shiny black pumps. He starts to inspect my bare feet, wrinkling my soles and having me wiggle my toes for him. Then he asks if my feet are ticklish. I tell them they are, but find myself begging him no as he starts to tickle my soles. "Don't fight me" he says as I try to endure the torture. Then he tells me he wants me to struggle, to act like I'm trying to get free. I start squirming around and testing the ropes. I've never done this before, I hope I'm doing a good job. He orders me to struggle harder and I obey, struggling as he watches and enjoys. I start to whine that I don't think I can get out, I don't know what he wants me to do! He snaps and says "what did I say about speaking?!" He pulls out a ballgag and I shake my head no as I look at the large red ball that is somehow supposed to fit in my mouth?! I cannot fight it as he shoves it in my mouth and I moan in discomfort. He goes on to say he has more goodies to prepare to make sure I get the full experience and will return when he is ready. He leaves me alone struggling helplessly in anticipation of what else this session has in store!
In part two, to complete my first session, I learn what it is like when a slave receives a punishment. I'm still tied up and have been for quite some time now. Master Matt shows me the different implements he likes to use, and then starts punishing me with each of them one by one, making me count out sets as I moan and scream in pain through my ballgag. The flogger is just the worst on my sensitive nipples, almost bringing me to tears and actually leaves my right nipple sore and bruised for the remainder of the night. He uses the flogger and crop on my ass and also my soft tender bare soles! I didn't know that punishment also involved my poor feet! He throws in a few hand spankings for good measure, and moves on to show me the paddle, which he reserves for when I've been a very bad girl. He finishes off my punishment giving me 10 swift whacks with the paddle on my already red and sore bottom. He leaves alone, still bound and gagged, and tells me to think about our session and about being his new slave. I rub my red ass and really wish he would untie me, but I've come this far so I should being tied up a little longer. He really did give me the full experience, I never knew that surrendering control could be so pleasurable and painful at the same time!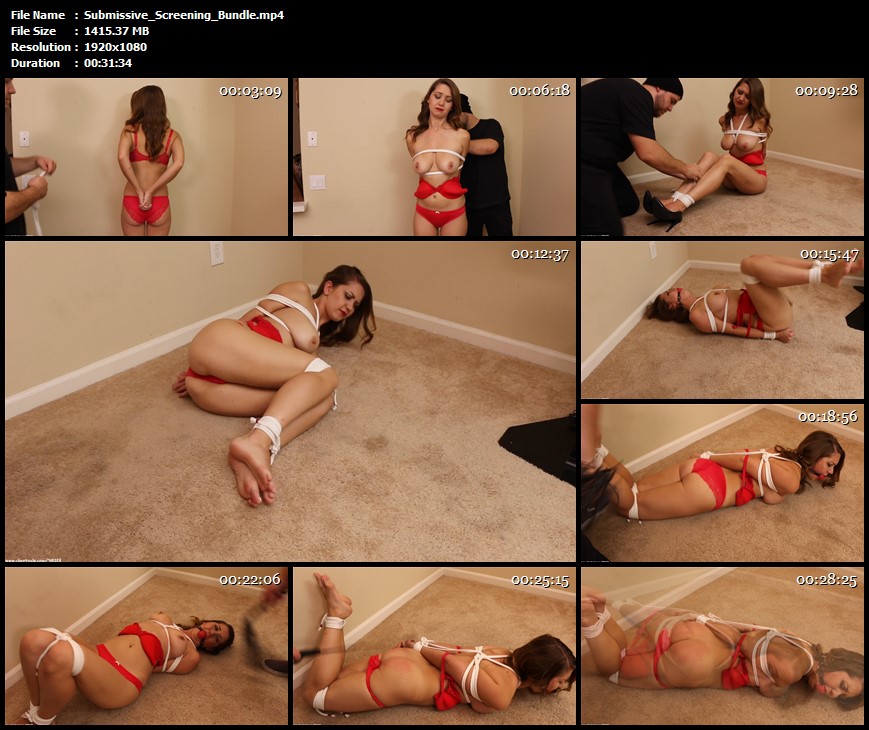 Clip name: Submissive_Screening_Bundle.mp4
Clip size: 1415.37 MB
Format: mp4
Resolution: 1920×1080
Duration: 00:31:34
Link (TezFiles):
Submissive_Screening_Bundle.mp4