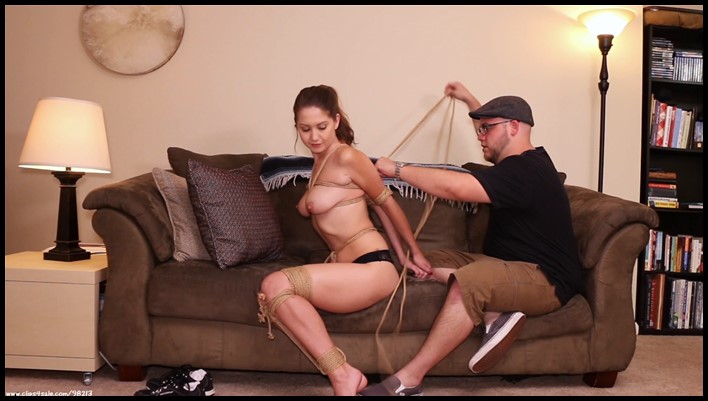 The Raw Jute Rope Experiment
19:45 video
I just got home from a long strenuous workout and I'm exhausted! I plop down on the couch, slip off my sneakers, and peel off my sweaty white ankle socks to cool off my hot soles. I catch a whiff of the stinky sock, wow, I must have really pushed myself hard this time! I can't wait to take a relaxing shower. Just then my boyfriend calls out from the other room "Chrissy, was that you?" I reassure him it's just me. He comes out to the living room, holding bunches of rope I've never seen before. "Look what came in the mail today!" He says excitingly. I remember him mentioning he was going to order some new jute rope to try out. He asks if I want to shoot a video and I tell him absolutely not! I'm all gross and sweaty and I had a tiring day. He keeps trying to persuade me, telling me that my sweaty skin will help condition the rough rope. I feel them for myself and they are quite scratchy, definitely rougher than the cotton I'm used to! I'm curious at how these ropes will feel against my soft skin, so I tell him okay, he can tie me up, but he can't film it, and he better make it quick!
Of course he has a hidden camera set up to capture this experiment, in case I didn't want to play along, like he suspected would happen. He goes on to say I should strip down so that the rope will have more contact with the oils in my skin. I'm pretty sure he is full of it, but whatever. I agree to strip topless, but tell him I'm keeping on my panties, I don't see why it's necessary to take them off too! I'm still oblivious to the fact that he is getting all of this on camera while he starts getting to work tying up my legs. The jute is even rougher than I expected, especially when he pulls the ends of the rope through my sensitive inner thigh area. Too much struggling and these ropes would definitely rub my skin raw. After that he moves on the the chest. "Do you really have to try out all the ropes?!" I ask, sarcastically. I cringe as the rope slides across the soft and tender under boob area and is then used to yank my tits up into a tight and perky position. The he ties the ends of the chest harness into a crotch rope! I'm starting to get impatient as the scratchy rope grows more uncomfortable with each foot that's added. Luckily, there is just enough left to bind my elbows and wrists, and then he is finally done rigging me up!
I struggle for a minute to get a feel for the rope. It definitely looks great, and I'm pretty sure this is impossible to escape from, even being the escape artist I tend to be! No getting loose this time. Now that I feel we've sufficiently tested out the new jute, I tell him he can untie me now, but instead he reveals that he has been secretly filming the whole time! I start to get really pissed off and demand he stop the camera and untie me! He says if I just struggle a little more then he will let me go, but I know he is just lying! I tell him I'm going to scream, and he better not fucking gag me! But unfortunately he was prepared, and forces a nice tight cleave gag into my mouth to quiet my bitching. I can't believe he tricked me again! I am so sick of him taking advantage of me, he is not going to get away with this! He places the camera on the ground and leaves me tightly bound and helpless, struggling aimlessly, cringing as I try to get out of rough rope, but knowing I realistically have no chance of escape! I mmmpphh and wiggle around in my only my panties until I pretty much give up and have to wait for him to return. When he finally comes back and jokingly says "you haven't gotten out yet?" I bitch through my gag, of course I haven't gotten out yet, it's impossible! He picks me up and carries my away. He is in so much trouble when he finally unties me! I mean, he can't leave me tied up forever! Or can he?!?!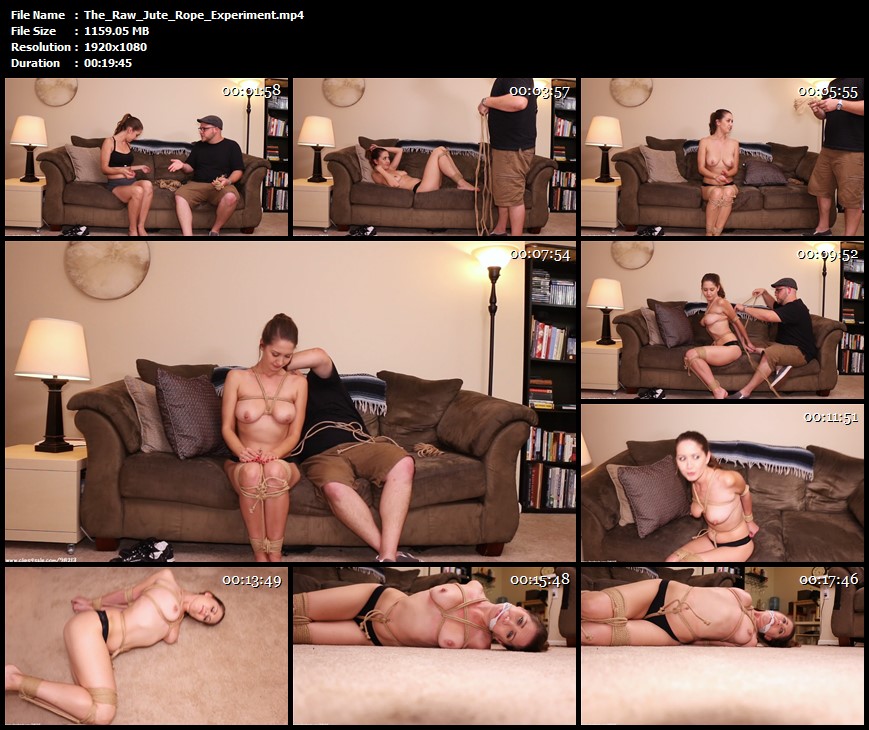 Clip name: The_Raw_Jute_Rope_Experiment.mp4
Clip size: 1159.05 MB
Format: mp4
Resolution: 1920×1080
Duration: 00:19:45
Link (TezFiles):
The_Raw_Jute_Rope_Experiment.mp4