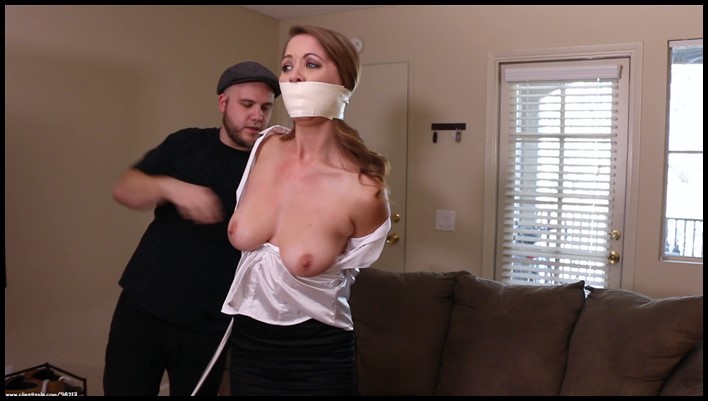 Tightly Gagged & Tied Tax Collector
18:45 video
I really hate this new job, I always feel like the bad guy having to go around and collect money from those with past due tax accounts. It's really not my personality, outside of work I swear I'm really sweet and friendly. But hey, a job is just a job, and those can be hard to come by these days. Today my first meeting of the morning is with a man whom I've met with on a previous occasion to come to a settlement on his account. He agreed to send us a check with the settled amount by a certain date, but we didn't receive it. After several collection letters, we sent a notice that we would be coming to his home today to discuss this matter. I arrive and he immediately recognizes me when he open the door. "You should have been expecting me" I say, as he invites me in. Indeed he was. I start to question him about the money, and he tells me that he has it and just has to go grab his checkbook from the back room. I'm shocked but glad he will make my job easy this morning, I have a lot of other meetings to deal with today. He offers me something to drink, I ask for water, and he returns with glass before leaving to go get the check. I start drinking the water, I'm really thirsty from all the coffee I drank earlier! All of a sudden I start yawning and feeling really sleepy. That's odd, I should have plenty of energy still from the caffeine. But my eyes grow so heavy that I can't control it, and I fade out on the couch, empty glass still in hand.
The man returns to see me knocked out limp on the couch, prepared with bundles of rope instead of the check he said he was going to fetch. It worked just in time! He has been planning this ever since our first meeting where I really pissed him off good. When he received the notice about the second meeting, he knew it was the perfect opportunity! He begins tying up my ankles in my knee high leather boots to keep me secure. Unbuttoning my silk blouse he realizes I'm not wearing a bra and gropes my big tits before flopping me over on my front and tying my limp hands together behind my back. He lifts me up and puts me back onto the couch, and at this point, I start to wake up. I quickly realize what's going on and start screaming at him to untie me right away!! He cannot do this to me, he is going to be in so much trouble! Insisting he won't get caught he continues to tie rope snugly around my thighs. "Your going to ruin my Italian leather!" I yell. I continue begging and pleading for him to let me go, even offering an extension on his bill, but that's not what he wants to hear! He shoves a huge wad of cloth in my mouth and tightly wraps foam tape around my open mouth and head multiple times! My mouth is so stuffed and the gag is so tight that my yelling is thoroughly stifled. He continues to violate me, squeezing my tits as he ties a tight chest harness to perk them up even more. I fight him hard but he manages to constrain me. Once he is finished securing the ropes, he pushes me back onto the couch. Trying to make a deal, he offers to let me go if I will waive his entire tax bill and forget that all this ever happened today. I frantically try to plead with him through my gag that I can't even do that, I don't have the authority. Fed up with my muffled cries, he leaves me alone to struggle, certain that I will eventually change my mind.
I intensely struggle against the ropes, not worried about ruining my expensive boots anymore, I just need to worry about getting free before he returns! I keep wiggling around, off the couch and onto the floor, my angry mmmpphs growing more worried and frightened as I begin to realize there is no chance of escape! He comes back in and asks me if I changed my mind. I urgently try to tell him that I want to help him but I can't make any comprehensible words through this damn gag! So he just takes that as a NO! In an attempt to further convince me, he pulls out another piece of rope and tightly binds me into a hog tie and ignores my pathetic cries as he leaves the room yet again. I continue to aimlessly struggle, securely hogtied in my boots and gagged to the extreme! What am I going to do, I can't call for help or barely move! This job is more difficult than I had anticipated!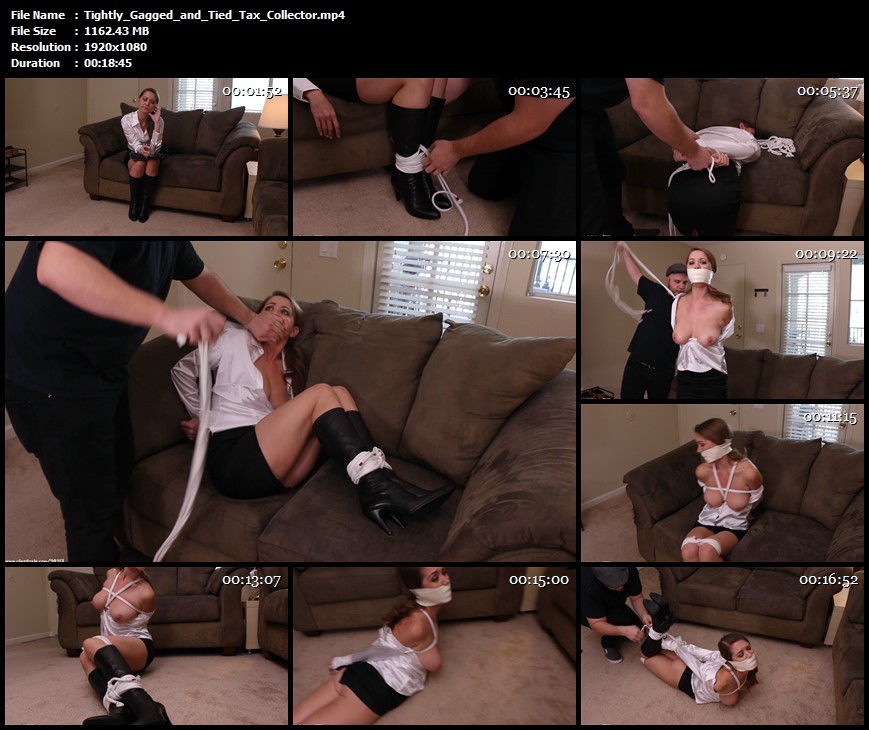 Clip name: Tightly_Gagged_and_Tied_Tax_Collector.mp4
Clip size: 1162.43 MB
Format: mp4
Resolution: 1920×1080
Duration: 00:18:45
Link (TezFiles):
Tightly_Gagged_and_Tied_Tax_Collector.mp4