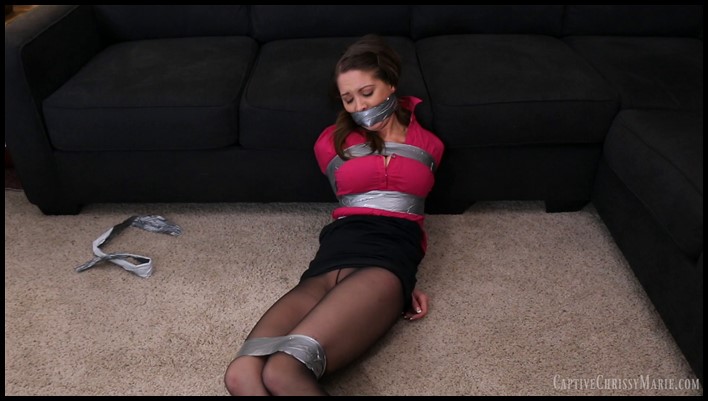 Too Much Tape To Escape!
20:34 video
Chrissy has found herself in another inescapably tight tape bound predicament. After having her defiant mouth stuffed full with a large cloth extra sticky duct tape is wrapped all around her head several times as she struggles and angrily mmppphhss at him for ruining her soft long hair! Her arms already pinned down to her body she can't do anything but take her heavy gagging before he lays her on the floor to tape her ankles up to her thighs into a tight frog type tape hogtie! Chrissy can't believe how immobilized she is this time and is certain she won't be able to free herself from this one, but she can sure as well try her hardest! However she isn't very happy when she finds out he is going to leave her there struggling helplessly bound and gagged for a while. She begs him not to go, what if she needs help?! He just wishes her luck and walks out the door leaving her squirming around on the floor, gag talking to herself and struggling violently in hopes of escaping from the terribly tight tape job he did on her! After some time of fighting to free herself one good tug on the legs and she surprises herself when she is able break free from the hogtie. She tries to climb up on the couch and find a more comfortable position to work on freeing her wrists. She struggles and mmppphhsss hard thinking there must be a way, but the truth is there is way too much tape around her arms and upper body that there is no way she will break free even if she used all her strength! She struggles in frustration for as long as she can take but soon starts crying through her gag for help. When he hears her and finally returns he makes her beg him to release her and she does with big blue puppy dog eyes and a tapegagged face!
Includes 7 minutes bonus behind the scenes of the initial tape job & post clip gag removal!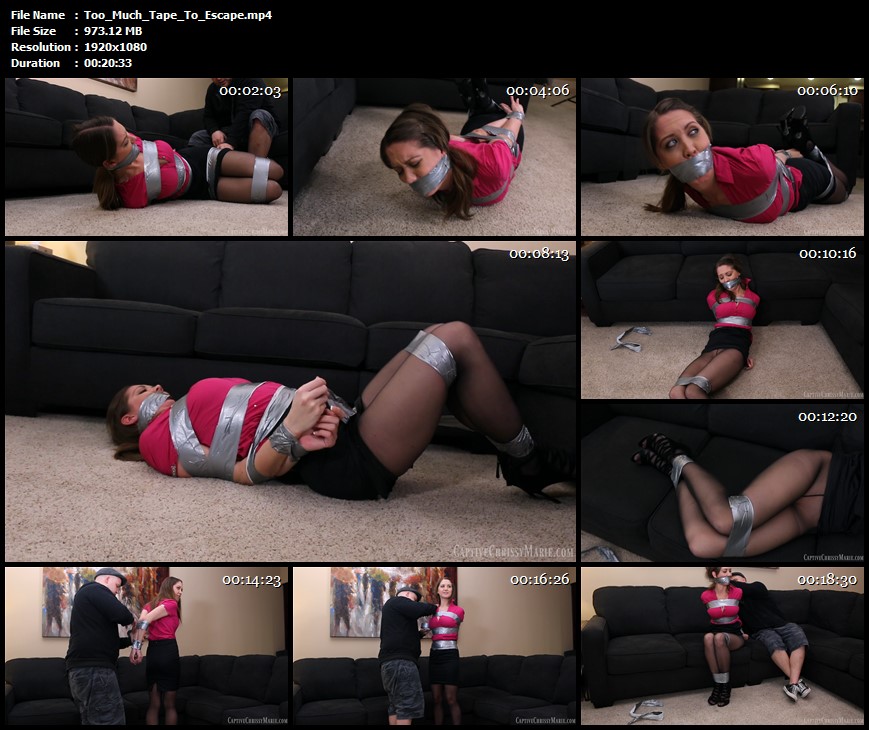 Clip name: Too_Much_Tape_To_Escape.mp4
Clip size: 973.124 MB
Format: mp4
Resolution: 1920×1080
Duration: 00:20:33
Link (TezFiles):
Too_Much_Tape_To_Escape.mp4