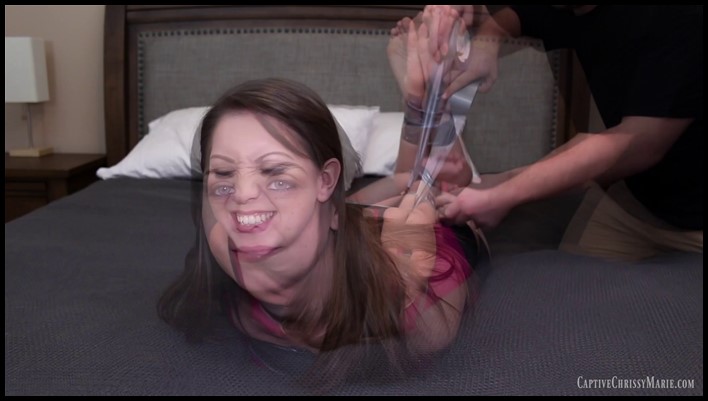 Webcam Tape Challenge
13:11 video
Chrissy is laying on her bed in short shorts, a tank top and bare feet. She is recording a live webcam broadcast and she giggles flirtatiously as she reads and responds to comments from her viewers. "You want me to do a challenge? What kind of challenge? A hogtie, what's that?" She pauses as she waits for a response then reads it aloud. "Tie my hands behind my back and then tie my wrists to my ankles? Ok! I bet I can do that, I guess I have some duct tape somewhere, would that work? I just need someone to help tape me up. Hold on." Chrissy disappears off camera before coming back excited with a roll of good old fashioned, extra sticky duct tape. She plays with a roll of gray duct tape and begins peeling back the roll. "I've got someone coming to help get me all taped up," she says with a smile. A man enters the room and she hands him the roll of tape. She looks at the screen and reads the instructions aloud as she instructs him how to tape her up into a hog tie with the help of her viewers. When she is done she can't help but notice he did a pretty good job as she tugs on her bonds. Definitely more immobilizing than Chrissy had anticipated. "Ok. I'm all hogtied." She says. Then she pauses and reads carefully off the screen. She slowly reads it aloud as if she can't believe what she is reading! "Stuff a sock in her mouth and then duct tape her mouth shut." She finally gets it and starts to freak out. "What?!?! No! We didn't say anything about a sock or DUCT TAPE ON MY MOUTH! Absolutely not!"
Her friend responds excitedly off camera, "Ok!! If that is what the viewers want to see!" Chrissy struggles and begs him not to put a sock in her mouth! However she is all taped up and can't do anything about it and he agrees that it's a great idea as he doesn't want to hear all of her bitching when he takes off the tape anyway! He stuffs a large sock into her mouth and forces her to close her lips around it as he tears off a long piece of grey duct tape. A new message arrives on and he reads it out loud. "Wrap the tape all the way around her head." He laughs and says, "Ok! If that's what they want!" He tosses aside the piece of tape that he tore off and takes the whole roll of duct tape and wraps it tightly around her mouth and head 4 times! Chrissy gets wide-eyed and then extremely angry as she begins to struggle violently. As the viewers watch her struggle helplessly bound and gagged she relentlessly grunts and gag bitches at the guy who taped her up, demanding to be let go, this is way more of a challenge than she agreed to! She continues to roll around and tug on the tape as she arches her back, mmmppphh-ing urgently through her sock gagged mouth in extreme discomfort and frustration! Eventually Chrissy makes her way off the bed and into a kneeling position. She continues her gag bitching, angrily demanding to be let go. He can see she is really struggling now and decides to help her. He tell her "ask me nicely and I will let you out." At this point she would rather do anything than be bound and gagged another minute, so she looks up and him and pleads with puppy eyes for him to let her go until he finally concedes!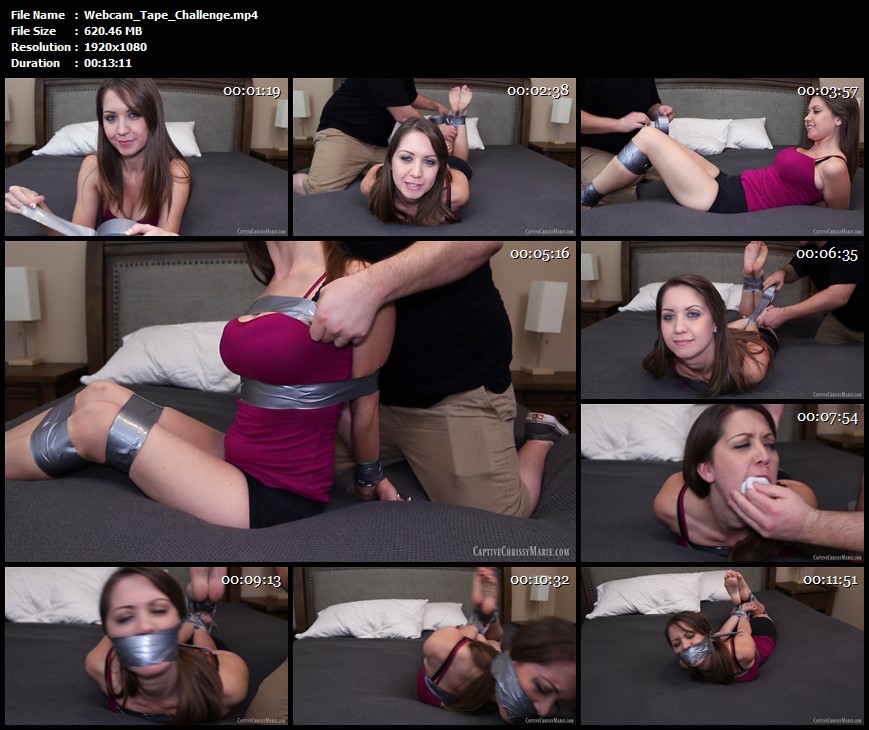 Clip name: Webcam_Tape_Challenge.mp4
Clip size: 620.462 MB
Format: mp4
Resolution: 1920×1080
Duration: 00:13:11
Link (TezFiles):
Webcam_Tape_Challenge.mp4