The Vigilante Lures and Captures Sass – Part 1
Property values are up and the neighborhood is safe. The Vigilante knows that to keep it that way, he has to keep the hookers out of his neighborhood. Sass doesn't hang out on the street corners anymore. She's set up a phone # where potential customers call and set up a session. When the Vigilante sees the ad he makes the call and lures Sass into an old factory building where he has set up a temporary camp. Sass walks up the steps and down several long corridors, wearing her high heels and slutty skirt. As she walks by one particular door, the Vigilante jumps out and grabs her… pulling her quickly inside. Once inside he roughly manhandles her, ties her wrists, and then gags her extremely tight with a bandage and black tape. With her jaw and face under tremendous pressure from the gag, she submits a bit more, realizing there is nothing she can do. A rope is tied around her neck and tied overhead. Now she can't go anywhere. He circles her groping her tits and slapping her ass.
Her sweater is snipped open, then her bra is snipped off. He tightly crotchropes her. He continues to roughly grope and manhandle Sass. By the time he removes her neckrope,gag and makes her sit in a chair, snot is running down her nose and her face is beading with sweat. This is where Part 1 ends.
Featuring: Sassy
Categories: black girls, ethnic, hooded, sweaters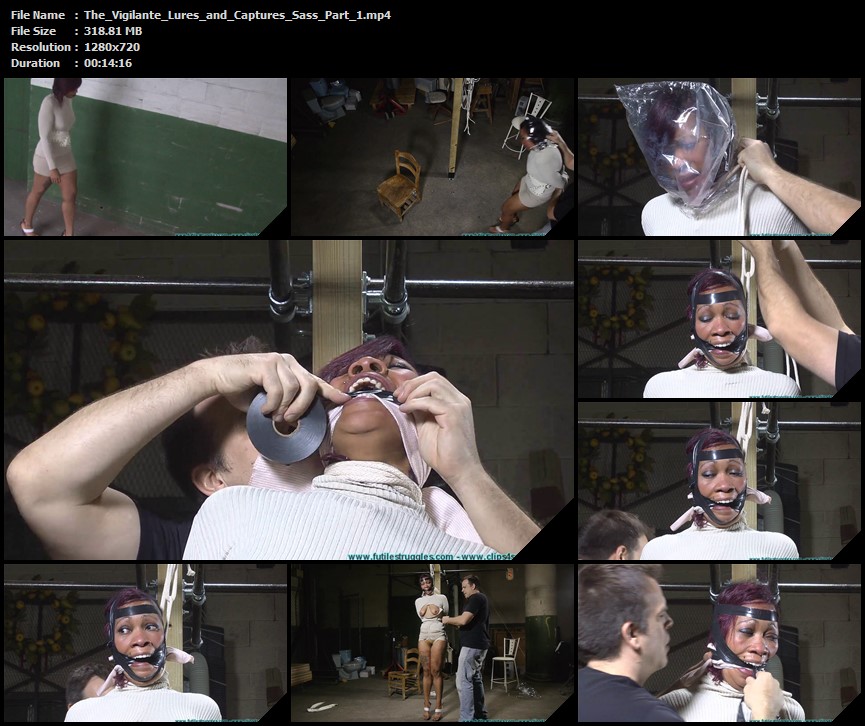 Clip name: The_Vigilante_Lures_and_Captures_Sass_Part_1.mp4
Clip size: 318.812 MB
Format: mp4
Resolution: 1280×720
Duration: 00:14:16
Link (K2S/Fboom):
The_Vigilante_Lures_and_Captures_Sass_Part_1.mp4