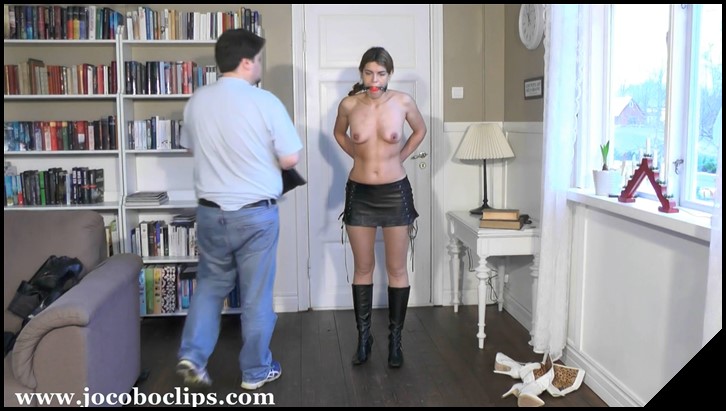 The Blackmail
Juliette has a packet in her hands and calls a friend. Maybe he wants to see how she take on the new clothes. As the man is at her home she takes off her clothes and tries new leather outfits. She chooses a sexy leather miniskirt and a corsage and leather gloves and overknee boots. She takes out some ropes and the man has to tie her up. First he ties her elbows and wrists with ropes. Thereafter she gets a breast bondage. Juliette has to lie on the floor. He ties her knees and ankles. He gags her with different towels and at last she is gagged with a white cleavegag and he connects ankles and elbows with another rope. Now Juliette lies in a strict hogtie on the floor. She is angry that the man leaves her alone. She can't escape. What an idiot. After a while the door is opened again. Juliette begs that the man looses the ropes and he unties her and ungags her also.
But Juliette can't go now. She has to take on a leather dress and new white boots. She has to stand against the door. The man checks her body and he gives her a ball gag and she has to gag herself. He cuffs her wrists behind her back and he tells her, that she know has to change the boots. What? How shall Juliette changes the boots with cuffed hands behind her back? Idiot! Juliette tries her best and she really can change the boots with cuffed hands. He takes off the dress. He loves the miniskirt and corsage. Juliette has to wear this outfit.
Now the guy ties Juliette with ropes to the chair. She can't move. He takes off the ball gag and gags her again with a cleavegag. She has now the choice. Juliette has to sit tied on the chair and do what he wants from her or he unties her and Juliette will steal some information he needs.
Juliette decides to steal the information.
Tags: leather fetish, leather, boot fetish, boots, Juliette, hogtie, ropes, tied up, rope bondage, gag, cleave gag, cuffed, handcuffs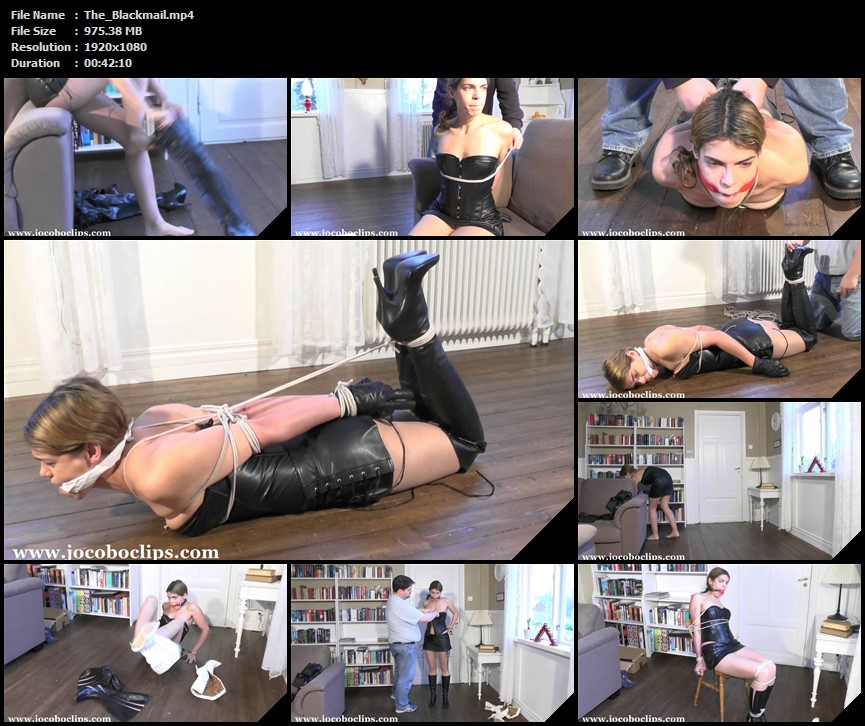 Clip name: The_Blackmail.mp4
Clip size: 975.383 MB
Format: mp4
Resolution: 1920×1080
Duration: 00:42:10
Link (K2S/Fboom):
The_Blackmail.mp4