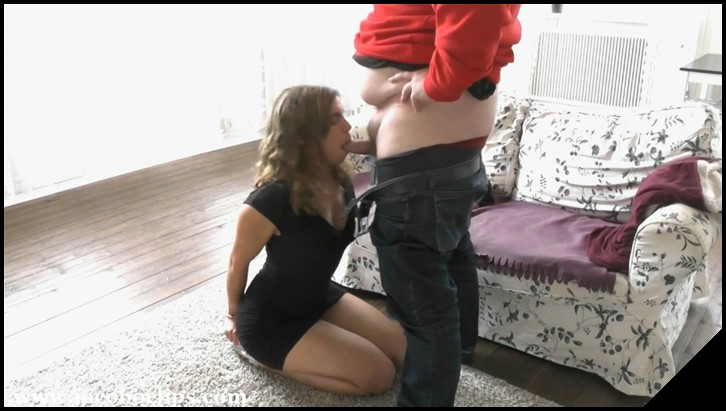 Blowjob Queen Part 1
The door bell ring, a man go to open and there is Juliette, dressed with a very sexy evening dress and very heavy make up on her eyes and lots of deep red lipstick on her lips. She tells the man that she is there for the lesson. Both sits on a sofa. She tells him that her man complaint about her blowjobs and she wants now a lesson from him to do better blowjobs. He tells her that he must understand where the problems are, and to do that she must do some trial, some of them will be pleasant and fun and other not. A little scared she agrees.
He gives her a banana and she has to simulate a good blowjob on it and she starts to lick and kiss it. After the banana is out of her mouth the man tells her to retouch the lipstick. Now it's time for some practical exercises, with his cock. First he tells her that a good blowjob must be done without hands, only with the mouth, so he gets a pair of handcuff and put them on her hands behind her back, with some difficulties, because she doesn't want to be handcuffed! Then he tells her to go down on her knees, explaining that is the best position for blowjob, then asks her to show him what she is able to do with his cock. She start to lick his cock. After a while he becomes very active. He takes her head in his hands and driving it on his cock. After the blowjob it's time for new lipstick and later he uncuffs her and takes a ring gag and a inflatable gag. He quickly put the big ring gag deep inside her mouth and locks it very tight behind her head. The man puts also the inflatable gag into her mouth. Juliette is scared about that, and tries to tell him that. But he has no mercy. After Juliette lays on the sofa he ungags her and pushes his dick in her mouth. Again and again. Fantastic blowjob. After a while he gags her again with the ring gag and puts more lipstick on her lips and fucks her mouth through the gag. He exits from her mouth, put the inflatable gag inside her mouth and inflates it at the maximum and leaves her alone.
He gives her some little slapping on her face to wake her up. He deflate the inflatable gag and get it out from her mouth, then unlocks the ring gag. He suddenly starts to face fuck her very strongly, until he comes on her face and lips.
In the big final, he first asks her to make a very evident make-up of her lips, using the black lipstick, then he wants to teach her the ten things to do during a blowjob. He tells her that all men likes every one of these things, so he will say and explain them one by one, and Juliette will do each one, best she is able.
Juliettes kneels on the floor. She looks very sexy in her black dress, tha hair and the lipstick on her lips. She refreshes the make up. And the guy teaches her how she can do the best blowjob ever. So after the blowjob lesson she is a Blowjob Queen!
Tags: JulietteA, JoCoBo, lipstick, lippenstift, ring knebel, gag, handcuffs, cuffed, ring gag, inflatable gag, handcuffs, cuffed, gagged, damsel in distress, lipstick fetish, ring gag, inflatable gag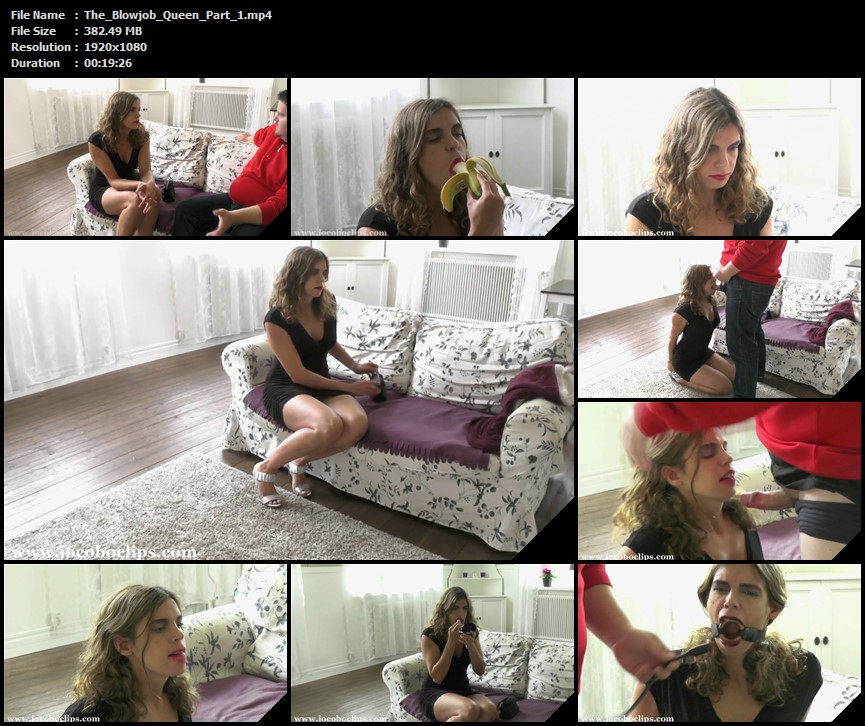 Clip name: The_Blowjob_Queen_Part_1.mp4
Clip size: 382.491 MB
Format: mp4
Resolution: 1920×1080
Duration: 00:19:26
Link (K2S/Fboom):
The_Blowjob_Queen_Part_1.mp4