666 – Mark Of The Beast. Part 2.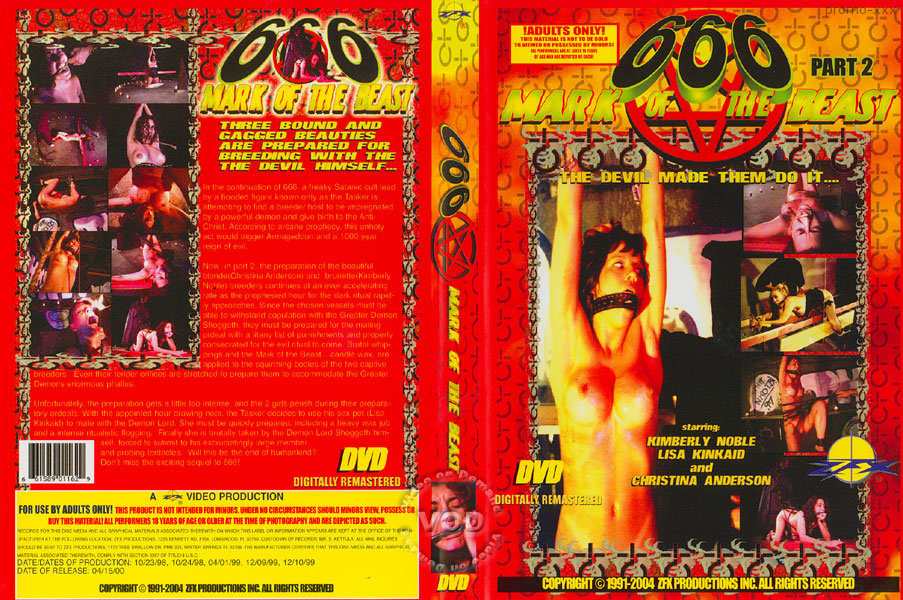 In the continuation of 666, a freaky Satanic cult lead by a hooded figure known only as the Tasker is attempting to find a breeder host to be impregnated by a powerful demon and give birth to the Anti-Christ.
According to arcane prophecy, this unholy act would trigger Armageddon and a 1000 year reign of evil.
Now in part 2, the preparation of the beautiful blonde (Christina Anderson) and brunette (Kimberly Noble) breeders continues at an ever accelerating rate as the prophesied hour for the dark ritual rapidly approaches.
Since the chosen vessels must be able to withdtand copulation with the Greater Demon Shoggoth, they must be prepared for the mating ordeal with a litany list of punishments and properly consecrated for the evil ritual to come.
Brutal whippings and the Mark of the Beast… candle wax, are applied to the squirming bodies of the two captive breeders.
Even their tender orifices are stretched to prepare them to accommodate the Greater Demons enormous phallus.
Unfortunately, the preparation gets a little too intense and the 2 girls perish during their preparatory ordeals.
With the appointed hour drawing near, the Tasker decides to use his sex pet (Lisa Kinkaid) to mate with the Demon Lord.
She must be quickly prepared, including a heavy wax job and a intense ritualistic flogging.
Finally she is brutally taken by the Demon Lord Shoggoth himself, forced to submit to his excruciatingly large memeber and probing tentacles.
Will this be the end of humankind? Don't miss the exciting sequel to 666!
Clip name: 666_Mark_Of_The_Beast_Part_2.wmv
Clip size: 578 MB
Link :
666_Mark_Of_The_Beast_Part_2.wmv