Highway To Hell.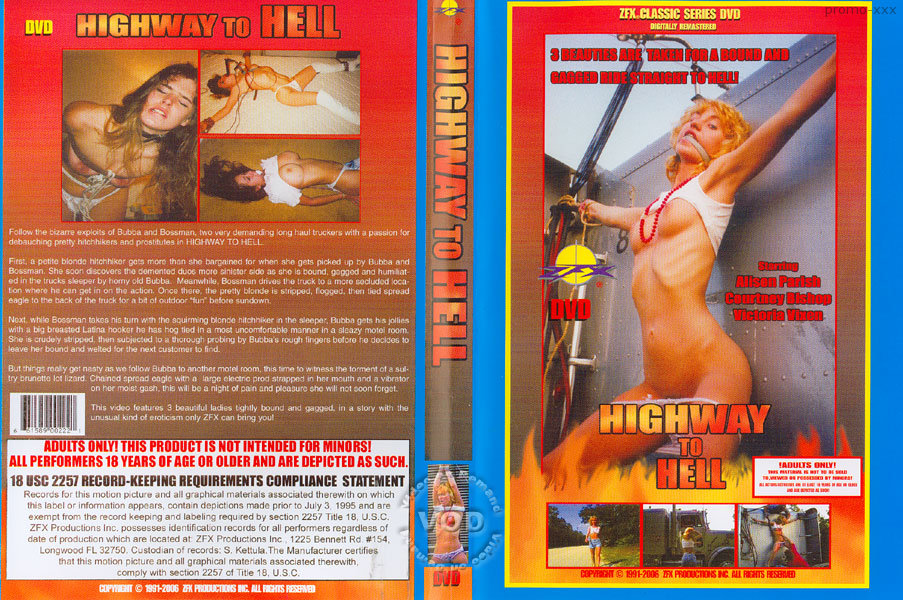 Follow the bizarre exploits of Bubba and Bossman, two very demanding long haul truckers with a passion for debauching pretty hitchhikers and prostitutes in HIGHWAY TO HELL.
First, a petite blonde hitchhiker gets more than she bargained for when she gets picked up by Bubba and Bossman.
She soon discovers the demented duos more sinister side as she is bound, gagged, and humiliated in the trucks sleeper by horny old Bubba.
Meanwhile, Bossman drives the truck to a more secluded location where he can get in on the action.
Once there, the pretty blonde is stripped, flogged, then tied spread-eagle to the back of the truck for a bit of outdoor fun before sundown.
Next, while Bossman takes his turn with the squirming blonde hitchhiker in the sleeper,
Bubba gets his jollies with a big-breasted Latina hooker he has hog tied in a most uncomfortable manner in a sleazy motel room.
She is crudely stripped, then subjected to a thorough probing by Bubba's rough fingers before he
decides to leave her bound and welted for the next customer to find.
But things really get nasty as we follow Bubba to another motel room, this time to witness the torment of a sultry brunette lot lizard.
Chained spread eagle with a large electric prod strapped in her mouth and a vibrator on her moist gash,
this will be a night of pain and pleasure she ill not soon forget.
This video features 3 beautiful ladies tightly bound and gagged,
in a story with the unusual kind of eroticism on ZFX can bring you!
Clip name: Highway_To_Hell.wmv
Clip size: 561 MB
Link :
Highway_To_Hell.wmv