Night Prowler 2.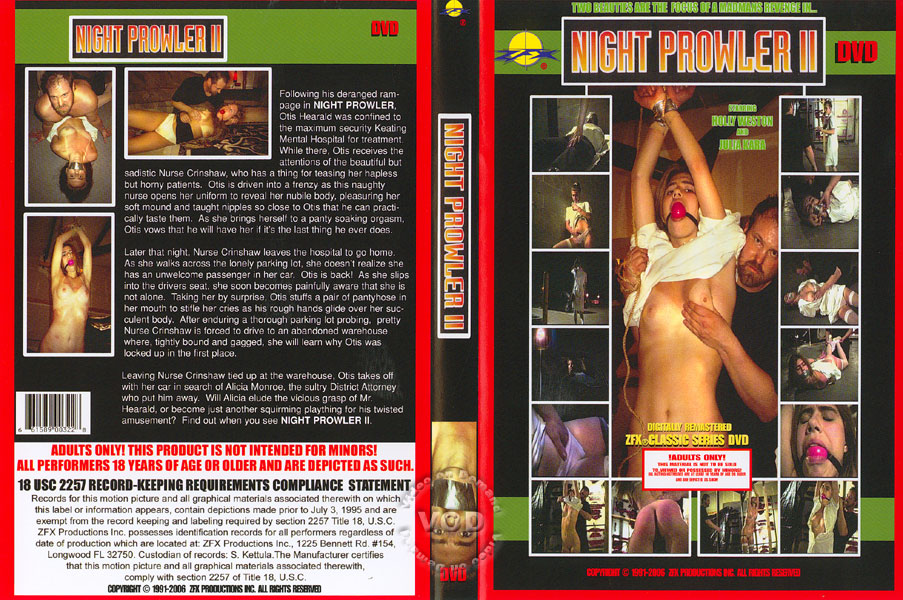 Following his deranged rampage in Night Prowler, Otis Hearald (Travis Lee) was confined to the maximum security Keating Mental Hospital for treatment.
While there, Otis receives the attentions of the beautiful but sadistic Nurse Crinshaw (Holly Weston), who has a thing for teasing her hapless but horny patients, and Otis in particular.
Watch as Otis is driven into a frenzy as this naughty nurse opens her tight uniform to reveal her nubile body,
pleasuring her soft mound and taught nipples so close to Otis that he can practically taste them.
As she brings herself to a panty soaking orgasm, Otis vows that he will have her if it's the last thing he ever does.
Later that night, Nurse Crinshaw leaves the hospital to go home.
As she walks across the lonely parking lot she doesn't realize she has an unwelcome passenger waiting for her in the car,…
Otis is back! As she slips into the driver's seat she soon becomes painfully aware she is not alone.
Taking her by surprise, Otis stuffs a pair of panty hose in her mouth to stifle her cries as his rough hands glide over her succulent body.
After enduring a thorough parking lot probing, pretty Nurse Crinshaw is forced to drive to an abandoned warehouse where,
tightly bound and gagged, she will learn why Otis was locked up in the first place.
Leaving Nurse Crinshaw tied up at the warehouse, Otis takes off with her car in search of Alicia Monroe
(Julia Kara), the sultry district attorney who put Otis away.
Will Alicia elude the vicious grasp of Mr. Hearald, or become just another squirming plaything for his twisted amusement?
Find out when you see Night Prowler 2.
Clip name: Night_Prowler_2.wmv
Clip size: 461 MB
Link :
Night_Prowler_2.wmv