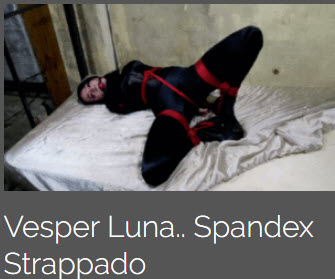 Vesper Luna_Spandex Strappado
16:20 video
With Vesper Luna
In 1280×720 High Quality HD for an amazing crystal clear download.
Bondage, BDSM, Submissive, Goth Girl, Black Lipstick, Spandex Fetish, Lycra Fetish, Rope Bondage, Strict Bondage, Tied Elbows, Bound, Gagged, Ballgagged, 18 Year Old, Strappado, Frogtied, Boots, Alt Model
18 year old goth girl newbie Vesper Luna in her FIRST TIME EVER TIED UP! After approaching her at the mall, she decides to come try out some bondage and debut her new bondage/fetish model career here at ShinyBound! She dresses up in a silky black catsuit and then we lace her into a tight satin corset. Just because she's new doesn't mean I take it easy on her with the ropes. After all, she tells me she used to be a gymnast.. I weld her arms together behind her in a straight line from her narrow shoulders to her wrists, with elbows more than just touching. I frog tie her legs apart and give her a nice crotch rope to sink into. I tell her to open her mouth, as I shove a bright pink ball gag between her black glossy vampire lips. I let her struggle like that for a few minutes and feel out her bonds. You can tell she is liking this new sensation.. After a bit I pull her back up onto her knees and spread her legs to balance her as i tie those welded arms up to the ceiling hook in a nasty strappado. Will she still enjoy bondage after this? Looks like she might.
Vesper Luna is available for custom bondage work. Contact me for details!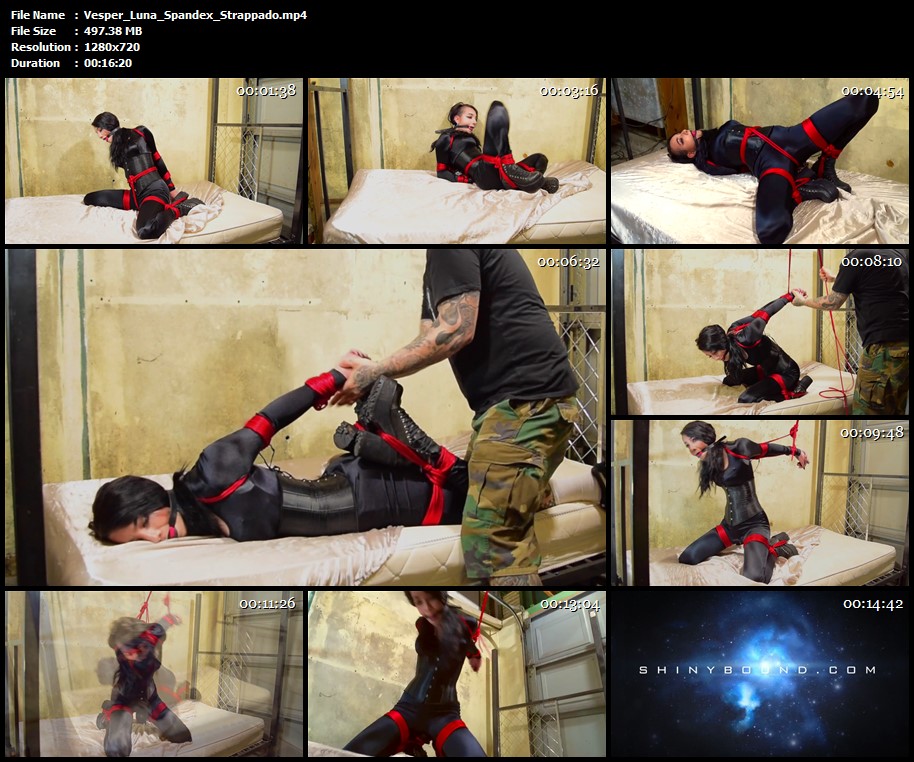 Clip name: Vesper_Luna_Spandex_Strappado.mp4
Clip size: 497.377 MB
Format: mp4
Resolution: 1280×720
Duration: 00:16:20
Link (FlorenFile):
Vesper_Luna_Spandex_Strappado.mp4