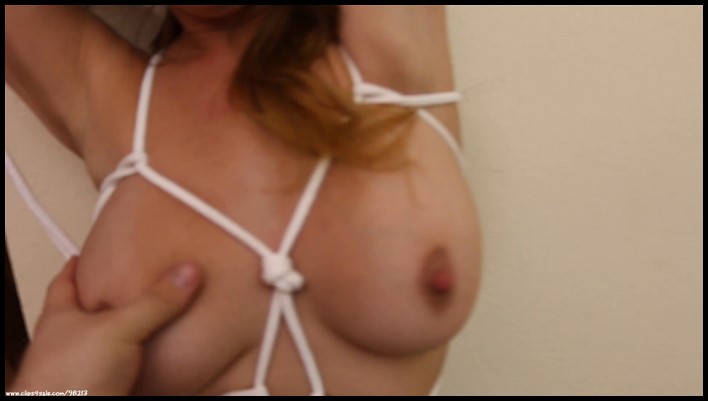 Creepy Chat Room Stalker
14:21 video
I've been hanging out in a BDSM chat room lately, just playing out some secret fantasies of mine that I've been too nervous about trying in real life. It's a lot of fun, but there is one member names Master Matt on the website who will not stop pressuring me to meet up with him and play in real life. He claims he wants to send me some flowers for Valentine's Day, and asks if I would give him my address. I'm not going to fall for that one! I'm definitely getting the stalker vibes from this guy. I ask him to please leave me alone, I don't wish to chat with him anymore if he is going to pressure me. He goes on to write me a detailed description of what he wants to do to me, saying that for Valentine's Day he would love to tie up my naked body up with a harness and bind my feet and hands so I can't escape, then he would fondle my nude body up and down and make me scream before stuffing a ball gag in your mouth to silence me and watch my beautiful body dangle.
How dare he say such things when he hardly knows me! I block him immediately, and go about my day, checking and emails and such. I have plans that evening to meet up with an old friend who is also lonely for Valentine's Day. A few hours after the chat room incident, I hear a knock at the door. I answer and ask how I can help the man, when he invites himself in, confessing that he is Master Matt and found my address after doing some research. I try to push him out and make him leave but he just hand gags me and starts smothering me until I'm knocked out limp!
When I come to I'm completely stripped down and tied up in a body harness just like he said! I beg and plead with him to stop tying me up and to let me go! He decides he needs to keep me quiet sooner rather than later, and pulls out a ball gag he brought with him just for that purpose! I try to fight him off but it's no use and shoves the gag in my mouth, fastening it tightly around my head. He pulls me up to my feet and start tying my hand over head as I squirm and struggle to get free. The rope between my labia moves when I try to struggle, which causes both pleasure and pain as the rough knot of rope rubs against my clit. He fondles and gropes me, taking breaks only to slap my ass or accuse me of being a dirty little tease online. I moan and try to plead through my gag for him to stop groping me but he is relentless. Then he decides just to sit back and watch me squirm and struggle for a while. I feel so humiliated as he is watching me all naked and tied up. I'm glad he enjoyed the Valentine's Day gift he took for himself. I struggle for some time but I start to feel my hands going numb overhead as I desperately try to free myself. I'm afraid I'm going to be stuck here until someone comes to save me!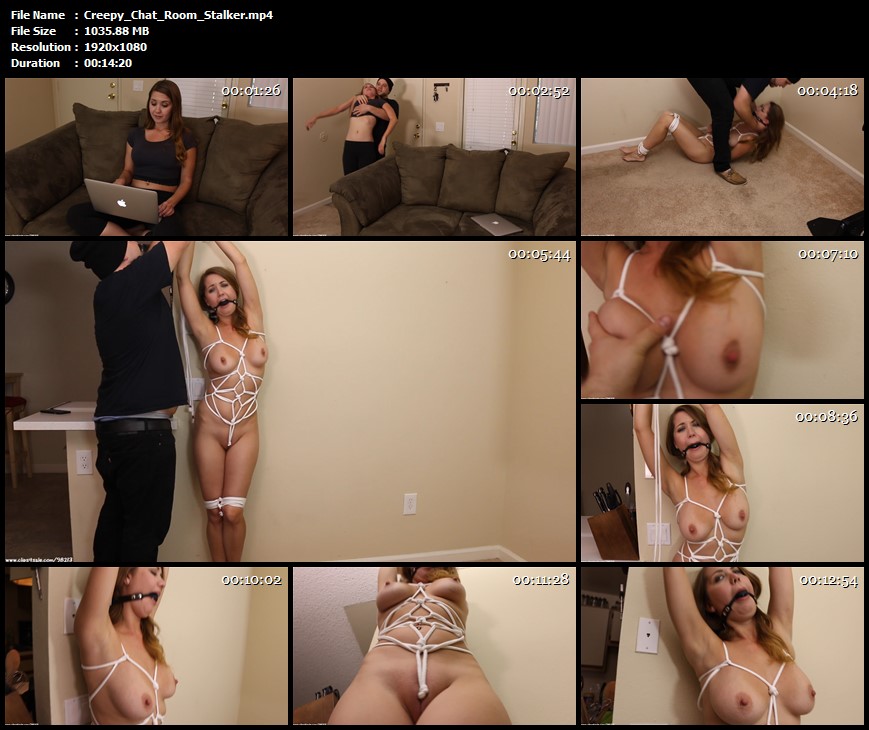 Clip name: Creepy_Chat_Room_Stalker.mp4
Clip size: 1035.88 MB
Format: mp4
Resolution: 1920×1080
Duration: 00:14:20
Link (TezFiles):
Creepy_Chat_Room_Stalker.mp4