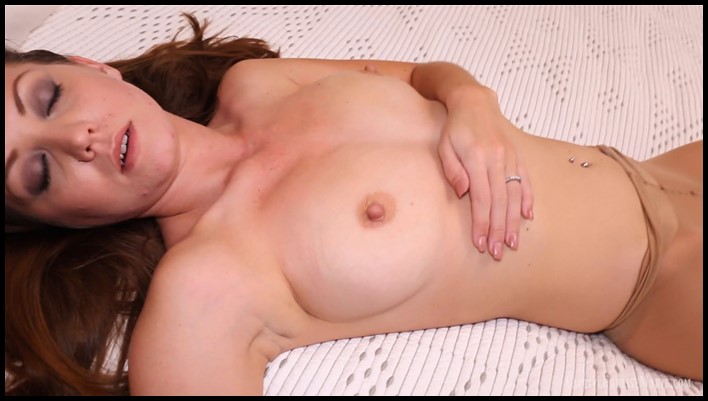 Sleepy Sister In Law
25:10 video
Matt has always had an eye on his brother's wife ever since the day they met. He tried to deny it in respect for his brother, but more and more he has been dreaming about seeing her naked. He knew that Chrissy would never go for him because she is a very loyal woman. He never thought his wish would come true, until one day Matt discovered a program that claims to put women in a trance where they will obey all commands. Matt heads over to his brother John's place and finds Chrissy all alone as John has already left for work, which of course he knew that was the case. This is his perfect opportunity. Chrissy is shocked that he just let himself in, but doesn't make a big deal over it. He asks Chrissy to watch a "video presentation" that he had made for work that he claims his brother was supposed to review for him. Chrissy hesitates because she has to leave for work, but agrees when he assures her it will take no time at all. Matt holds up his phone with the program playing on it and Chrissy looks at the screen almost instantly mesmerized. Her eyes glaze over and he is amazed at how quickly the program worked!
Matt runs some tests with her to see how obedient she really is. He has her hold up her hands, stand on one foot, and finally bend over the stove so he can get a look and her ass and nylon covered legs in those sexy leather boots. Next he decides he would like to make his dream a reality and this is his chance to see Chrissy in the nude. He commands her to lead him up to her bedroom. Chrissy obeys without question. Once in the bedroom he tells her to do a strip tease for him on the bed. He cannot believe that this is working so easily. Right when she is about to take off her bra, her phone rings and the startling noise breaks her out of the trance! Luckily Matt has a back up plan! He quickly whips out a cloth and holds it over her mouth and nose until her eyes roll and she falls limp onto the bed. Now asleep, he decides to get a closer look at her and removes her bra to fondle her perfect breasts. He checks her eyes to make sure she will not be disturbing him and drops her arm off the bed a couple times to see just how well it worked. He gets a look under her pantyhose, but knows if he takes them off he will go too far, it is his brother's wife after all. He decides that it is time to leave but he can't just leave her like this…he can't resist but to fulfill one more fantasy of his…to see her tied up spread eagle on the bed!
While Chrissy is still knocked out from part one, Matt ties her up with rope, all four limbs stretched out to each corner of the bed frame. He makes sure that everything is nice and tight and then leaves the since he knows she will be waking up any second now! Chrissy wakes up and is immediately alarmed by her situation! She does not remember anything and is very confused as to why she isn't at work! She is not gagged so she calls for help but soon looks at the clock and realizes that all her neighbors are at work by now. No one will be able to hear or help her! She struggles to get free, squirming around in nothing but her pantyhose, but she barely has any slack. Not only is she going to be helplessly stuck here for hours to come, just how is she going to explain this to her husband when he finds her like this?!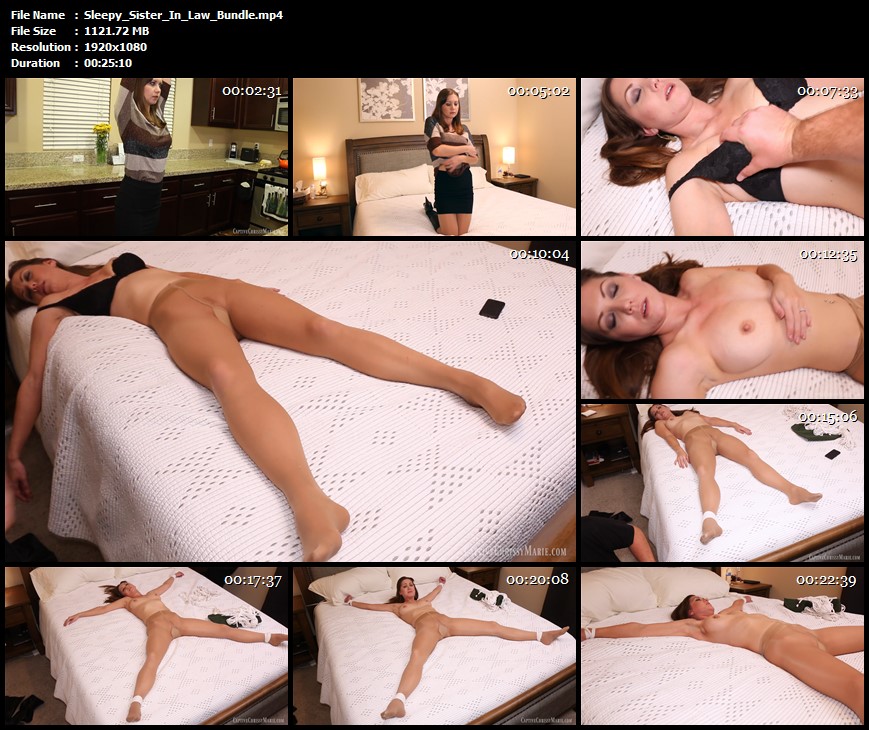 Clip name: Sleepy_Sister_In_Law_Bundle.mp4
Clip size: 1121.72 MB
Format: mp4
Resolution: 1920×1080
Duration: 00:25:10
Link (TezFiles):
Sleepy_Sister_In_Law_Bundle.mp4